5 companies to run city buses
3,000 new buses to hit the road by next year; Annisul reveals DNCC plan for overhaul of public transport system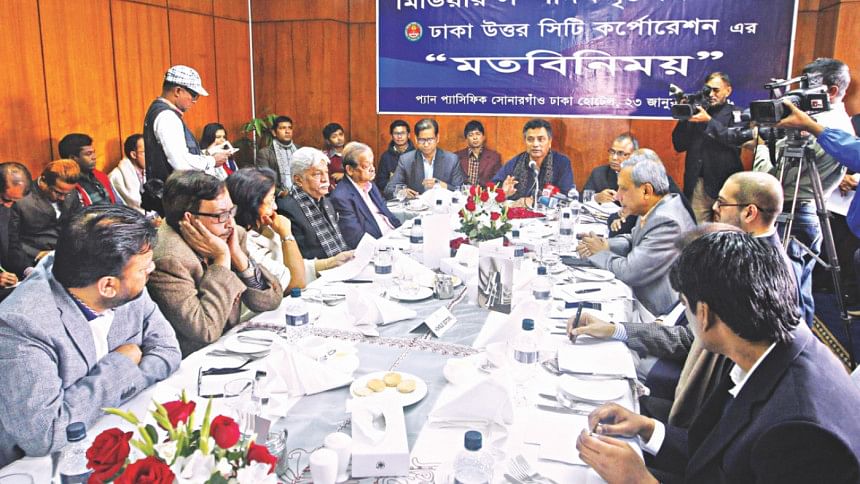 To improve the public transport system in the capital, the Dhaka North City Corporation will facilitate the introduction of 3,000 new buses to be run by only five operators.
"The new buses will hit the city streets by next year," DNCC Mayor Annisul Huq said at a views-exchange meeting with editors of national dailies at a city hotel yesterday.
The new vehicles, to be purchased by the operators likely on bank loans, will include 1,000 air-conditioned ones.
Annisul said currently, buses owned by 190 private operators ply different routes in the capital but most of the vehicles are rundown, offering a poor service to the passengers.
There is an "illegal syndicate" of operators that controls the entire transport sector in the capital and it would be quite difficult to get rid of it, he said.
He, however, claimed that the bus owners had already agreed to lower the number of operators to five and launch the fleet of new vehicles.
Replying to a query, the mayor said there were nearly a million rickshaws in the capital but only 85,000 of them, including 29,000 in the north city corporation areas, had licence.
However, the illegal rickshaws could not be taken out of the road overnight without ensuring an alternative means of transport for the city dwellers, he pointed out.
He claimed that he had been relentless in making some crucial roads and bus terminals at Tejgaon, Mohakhali, Gabtoli and Mohammadpur areas free from illegal parking.
Talking about his future plans, Annisul said 1,100 CCTV cameras would be installed in several places by June under the jurisdiction of DNCC to check crime.
As many as 90 such cameras had already been set up and it would require a total of 2,500 cameras to ensure a proper monitoring of DNCC areas.
Several corporate houses were ready to finance the project to be supervised by the police, he claimed.
The mayor said they had also planned to distribute 5,000 bins across the city corporation area to prevent garbage dumping on the streets. 
Apart from this, around 46,000 street lights would be replaced with LED lights in future.
On the city's water-logging problem, Annisul said 23 of the total 43 canals in the capital always remain clogged with solid waste, stopping the water from flowing into lakes and rivers.
Responding to another question, he said thousands of people would become unemployed if hawkers were evicted from the footpaths.
At one point, he called upon the editors to encourage his "civic campaign" by "dedicating some space in their newspapers" for raising public awareness. "No such goal can be achieved without public awareness."
Janakantha Editor and Publisher Atiqullah Khan Masud said illegal structures on pavements were the main reason behind the perennial traffic congestion in the capital.
The daily Samakal Editor Golam Sarwar said that development of any civic services was impossible without a city governor.