Flood hits schools hard in north, northeast
Academic activities in nearly 580 education institutions are being seriously hampered in the northern and northeastern regions due to the ongoing spell of floods.
The education institutions, mostly government primary schools, are either submerged or have been turned into shelters for flood victims for over a week.
Half-yearly examinations at many secondary schools in Sylhet and Moulvibazar have been postponed.
However, the education and primary and mass education ministries are yet to prepare a list of the affected institutions.
Education Minister Nurul Islam Nahid said they would prepare a list of the affected schools centrally as soon as the water starts receding.
The field level officials were collecting information about the flood-hit institutions, he added.
"We will repair the damaged school buildings and give textbooks to students who have lost those due to the flood," said the minister.
The Daily Star correspondents in the flood-hit districts talked to some education officials and compiled a list of the affected institutions.
Meanwhile, the overall flood situation in the northern districts remained grave yesterday as nine rivers, including the Teesta, Jamuna and Brahmaputra, were flowing above the danger level at several points due to the onrush of water from upstream and downpours.
Academic activities at 313 primary schools and 80 high schools in Sylhet and Moulvibazar have been suspended for the last two weeks. Of them, 27 institutions are being used as flood shelter centres.
The two districts have been experiencing floods since the last week of June.
Monir Uddin, whose son studies at Monsurganj Government Primary School, said classes were supposed to resume on July 1 after the Eid vacation, but the school has been hit by flood.
"My son stays home, but doesn't want to study. His second term exams are likely to begin next month, but I don't know what would be the [flood] situation then."
Classes at 161 and 152 primary schools in Sylhet and Moulvibazar remained suspended, according to the respective district primary education officers.
Tahmina Khatun, deputy director of the primary education department in Sylhet division, said the flood-affected schools have around 65,000 students.
She added they were assessing the losses of infrastructure and furniture of the schools.
Jahangir Kabir Ahmed, deputy director of secondary and higher education department in Sylhet division, said some 48 high schools in Moulvibazar and 32 in Sylhet have so far suspended half-yearly exams. Around 45,000 students are studying in these schools.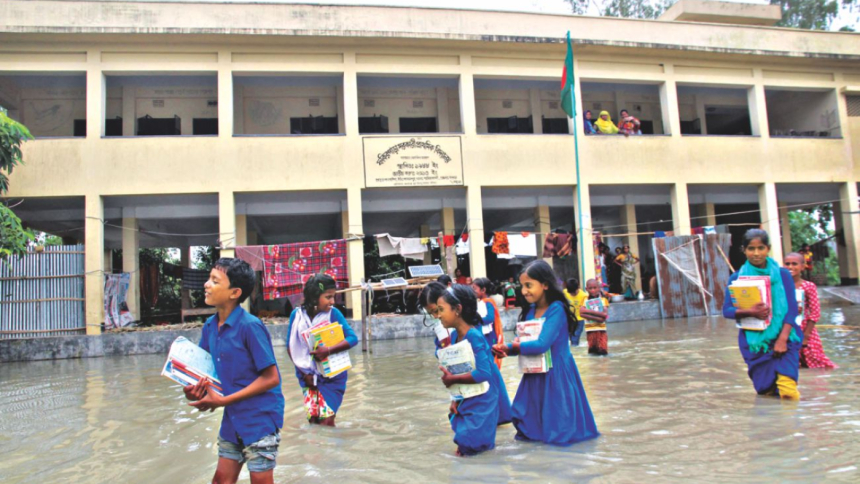 In Lalmonirhat, students of 48 primary and five high schools at Teesta river basin villages and char areas in four upazilas have not been turning up for last two days due to floods. However, the teachers are keeping the institutions open.
Sirajul Islam, a teacher at Nodi O Jibon Junior High School at Teesta River Char Sholmari in Kaliganj upazila, said none of their 188 students attended classes in last two days as floodwater surrounded the school.
"Only four out of nine teachers could come to the school," he said.
Nur Amin, a teacher at Dawabari Government Primary School at Char Dawabari under Hatibandha upazila, said, "All the classrooms are under at least one foot water. The school premises are under two to three feet water at some places. We stopped giving classes since Monday."
Soleman Miah, a guardian of two primary students at Teesta Char Gaddimari village, said they had taken shelter at a safer place as floodwater inundated their house. "How will I send my children to their school? " he asked.
Echoing the same view, another guardian Majidul Islam said, "Sending our children to school in the flood is very risky."
Nabez Uddin Sarker, district primary education officer, said teachers were instructed to keep the schools open, but academic activities could not continue without students.
In Bogra, at least 80 education institutions in Shariakandi, Dhunat and Sonatola upazilas have been facing difficulties to continue with the classes for last one week.
The floodwater has entered these schools' premises and even reached several classrooms. Neither the students were going to schools nor the teachers could hold classes in the water, he added.
Only 12 affected schools could take alternative measures to hold classes but did not get any students, according to district administration.
Moyna Khatun, a third grader of Shimulbari Government Primary School, said her classes remained suspended for a week as none went to the school.
However, a few students were seen wading through the water to attend classes at Fakirpara Government Primary School of Chandanbaisha village under Kamalpur union.
Jibonnahar Begum, acting headteacher of Shimulbari Government Primary School in Dhunat, said it was extremely difficult to take classes.
In Kurigram, 67 government primary schools in the char areas were forced to stop academic activities as flood situation worsened in last three days.
DPEO Swapan Kumar Roy Chowdhury said only eight of those schools were trying to conduct classes through alternative arrangement.
LAWMAKER BLASTS MINISTERS
Ruling Awami League lawmaker M Ishrafil Alam yesterday blasted the water resources minister and his deputy for "sitting idle" at a time when different parts of the country were hit by flood causing sufferings to people.
The lawmaker was speaking at parliament on a call attention notice submitted by him on taking emergency measures to repair damaged flood control and protection embankments in his constituency. 
Israfil said Water Resources Minister Anisul Islam Mahmud and State Minister Muhammad Nazrul Islam didn't visit any flood affected area where crops and houses were damaged and the victims were living in misery.
"Flood hit my constituency almost every year in the last eight years.  But I've never seen the respective minister or the state minister visiting my area," he added.