3 get death for killing 4 kids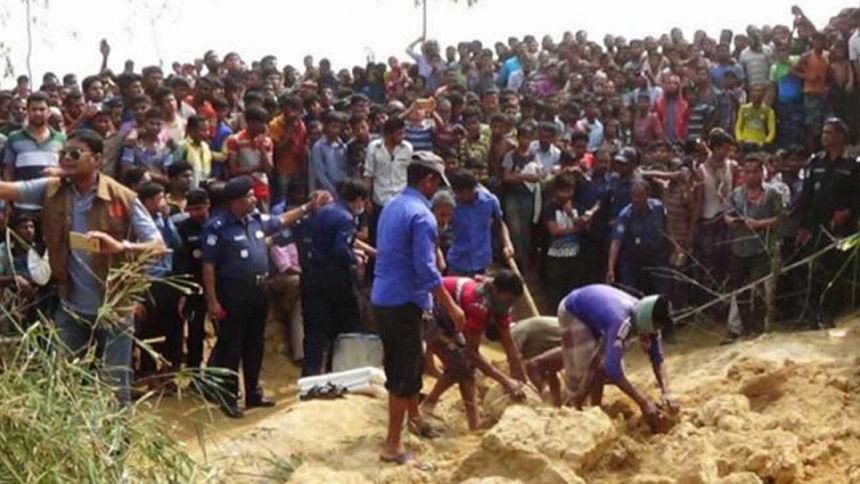 A Sylhet court yesterday sentenced three people to death in a case filed over the killing of four schoolboys in Bahubal upazila of Habiganj in February last year.
Judge Makbul Ahsan of the Sylhet Speedy Trial Tribunal also handed down seven years' imprisonment to two others in the case, Public Prosecutor Kishore Kumar Kar said.
The death-row convicts -- Rubel Mia, Habibur Rahman Arju and Ustar Mia -- were also fined Tk 10,000 each while other convicts -- Jewel Miah and Shahed Ahmed Bashir -- were fined  Tk 5,000 each.
The prime accused, Bachchu Mia was killed in a "gunfight" with the Rapid Action Battalion on February 25 last year.
The three other accused in the case -- Jewel and Rubel's father Abdul Ali and fugitives Babul Mia and Billal -- were acquitted as the court found them not guilty.
PP Kishore Kumar said the prosecution had successfully proved that all the accused were directly involved in the murder and so all of them should have been sentenced to death.
"We are disappointed with the verdict."
Shofiul Alam, lawyer of the accused, said the verdict was against the law, as according to the witnesses' statements the court either had to punish all or exempt all from the charges.
On February 12 last year, Monir Mia, 7, Zakaria Shuvo, 8, Tajel Mia, 10, and Ismail Mia, 10, were killed at Sundratiki of Bahubal upazila, over enmity between their fathers and their rival group in village arbitration council.
Monir was then class one student of Sundratiki Government Primary School and his cousins Zakaria and Tajel were in class two and four at the same school. Their neighbour Ismail was a student of Sundratiki Madrasa.
Detectives in April that year pressed charges with a Habiganj court against Abdul Ali, his two sons Rubel and Jewel, Arju, Bashir, Bachchu, Babul, Ustar and Billal.
In June 2016, the Habiganj district's Women and Children Repression Prevention Tribunal took the charges into cognizance and issued arrest warrants for the fugitives.
In March this year, the case was transferred to the Sylhet Speedy Trial Tribunal.