200 families live in fear of landslides
Local administration asks them to take shelter in safer places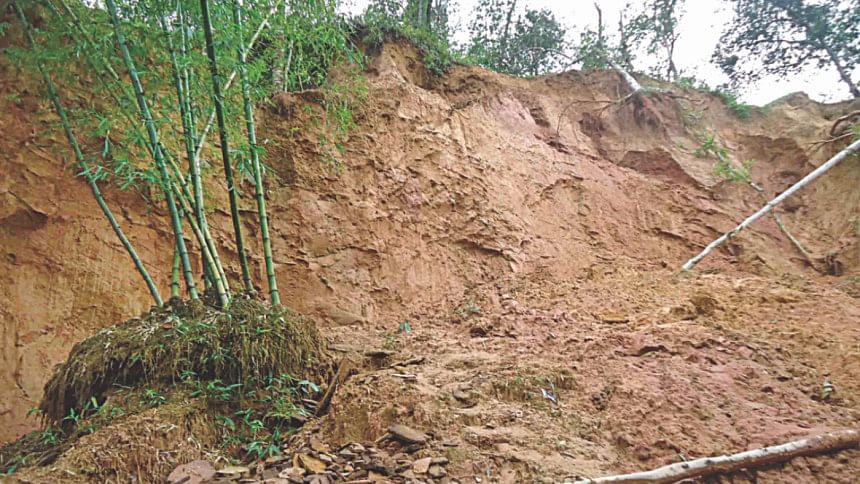 Around 200 families living in the hilly areas in two villages of Juri upazila are passing their days in fear of landslides as the villages were hit by a landslide on Wednesday.
The upazila administration yesterday asked the villagers to take shelter in safer places within 24 hours. 
Water level in the Juri river has risen due to continuous onrush of water from the upstream and flooded large areas in the upazila, affecting around 2,000 families.
Besides, it has been raining for the last three-four days.
At least six people of a family were injured and 50 houses damaged in a landslide in Montoil and Gushogram villages on Wednesday, said Masum Reza, chairman of Joyfornagor union.
Anwara Begum, 50, who lives on a hill slope at Montoil village, said they were in fear as landslides might occur anytime.
"Flood water has damaged 11 dykes, washed away fish of around 700 ponds and damaged paddy on 2,000 hectares of land in my union," said Sahab Uddin, chairman of Gualbari union.
Nasir Ullah, Juri upazila nirbahi officer, said he visited the area to see the situation.
Abdul Karim Kim, general secretary of Bangladesh Poribesh Andolon (Bapa) Sylhet unit, said they had long been campaigning against the destruction of hills. But hill cutting went unabated, causing the landslide.
Kishore Roy Chowdhury, Juri upazila vice-chairman, said though the flood-affected people took shelter on nearby embankments and other safer places, they were passing their days amid hardship for want of drinking water and food.
He said flood situation also worsened. Road communications between the upazila and other areas of the district remained snapped as many roads and bridges went under water.
Gulshanara Chowdhury, Juri upazila chairman, said they distributed relief materials in the affected areas.