2 killed as train hits bus in Ctg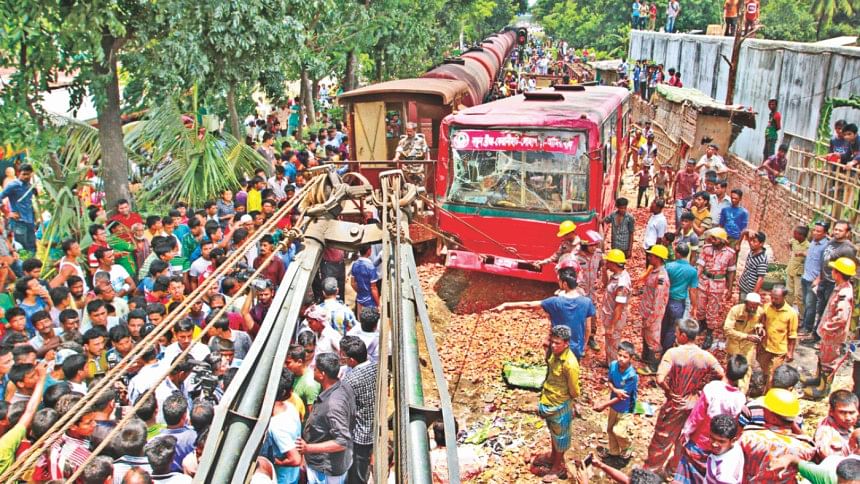 Two women were killed and at least five people injured as a train hit a BRTC bus on a railway crossing and dragged it around 150 yards along the track in the city's Sholoshohor area yesterday morning.
One of the deceased is Bibi Marium Jesmin, 35, of Sitakunda upazila. The identity of the other dead, aged around 30, could not be confirmed.
Of the injured, Marium's son Md Sami, 10, Nurun Nabi, 60, Ratna Begum, 35, and Noman, 8, were admitted to Chittagong Medical College Hospital. Abul Kalam Azad, a guard of the train, received primary treatment at Railway Hospital in the city's CRB area.
Most of the victims were bus passengers, police said.
The accident occurred around 11:00am when the Hathazari-bound oil tanker train carrying furnace oil hit the bus on the railway crossing, about six kilometres away from Chittagong Railway Station. The Lohagara-bound bus was on its way to Karnaphuli bridge area from the BRTC bus depot in the city's Oxygen area.
Vegetable vendor Firoz Alam, a witness to the incident, said that as the bus got stuck after crossing the level crossing barrier, the train hit it, causing the vehicle flip on its side.
The gatekeeper didn't lower the barrier on time to keep the crossing free. By the time the barrier was brought down, the bus was already on the track, added Firoz.
However, gatekeeper Habibur Rahman claimed that the bus driver drove on to the level crossing while he was lowering the barrier.
"When I asked the driver to reverse, he said: 'Let the train come. I would see to it.'"
By the time the train reached near the railway crossing, there was not enough space for the driver to reverse. Sensing danger, he jumped off the bus and fled the scene, Habibur said.
Shamshul Alam, senior locomaster, said the train was running at a speed of around 12 kilometre per hour. Had it been running at a higher speed, the accident would have been more fatal.
This newspaper could not reach bus driver Md Oli for his comments.
Meanwhile, the railway authorities yesterday formed a four-member committee, headed by Firoz Ifthekar, divisional transportation officer of Bangladesh Railway (east zone), to probe the accident.
Mentionable, four garment workers were killed and 10 others were injured in a similar accident in the port city on March 11, 2014, when a train hit a minibus in Chandgaon area.