10 injured as BCL factions clash in Ctg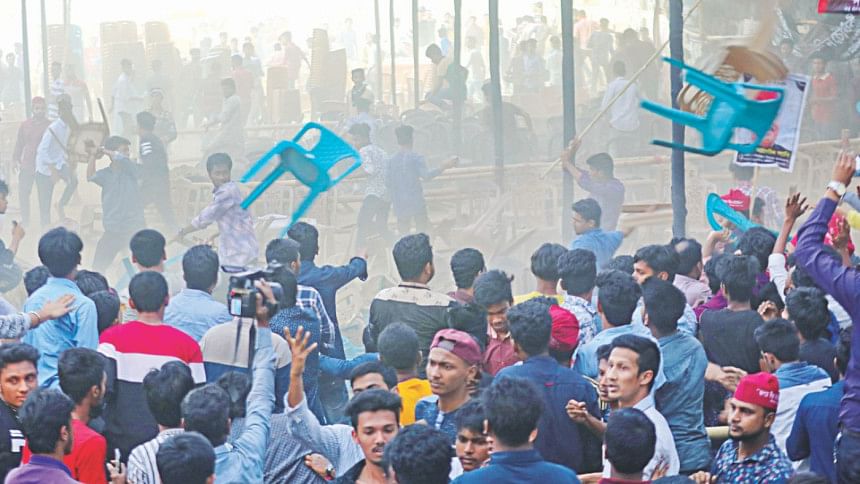 At least 10 people were injured in a clash between two factions of Bangladesh Chhatra League (BCL) during a meeting commemorating former Awami League leader ABM Mohiuddin Chowdhury at historical Laldighi ground yesterday.
Identities of the injured, believed to be activists of the student front of ruling party, could not be known immediately.
City unit BCL organised the meeting to commemorate the former Chittagong City Corporation (CCC) mayor, also former president of city unit AL, with eminent sociologist Prof Anupam Sen Gupta attending as the chief guest.
The clash erupted around 5:30pm in presence of ABM Mohiuddin's son Mohibul Hasan Chowdhury Nowfel, also ruling Awami League's central committee's organising secretary, over chanting slogans, said eyewitnesses.
They added local units of BCL including members from different education institutions started gathering at the venue from 3:00pm in procession.
Chittagong Govt City College unit took position on the left of the stage, Omargoni MES College unit on the middle and Mohsin and Chittagong College units on the right side of the stage ahead of the programme.
At one stage, a scuffle occurred between MES College and Chittagong City College units over chanting slogans when city unit Jubo League convener Ershadul Alam Bachchu was addressing the rally.
During the scuffle, senior leaders came down from the stage to calm the situation, said the witnesses, adding that after 20 minutes the groups again locked in a scuffle over chanting slogans and started hurling plastic chairs at each other.
The commemorating rally was halted for around 30 minutes. It resumed when senior leaders of AL, Jubo League and BCL brought the situation under control, said the witnesses.
City unit BCL's Senior Vice President Nazmul Hasan Rumi told The Daily Star, "The scuffle ensued over chanting slogans. Senior leaders brought the situation under control in time."
Assistant Commissioner of Kotwali Circle Jahangir Alam of Chittagong Metropolitan Police said no-one was detained in this connection. The BCL men left the venue at the end of the programme without further incidents.