Mirpur suffers as workers block 2 roads for 12 hours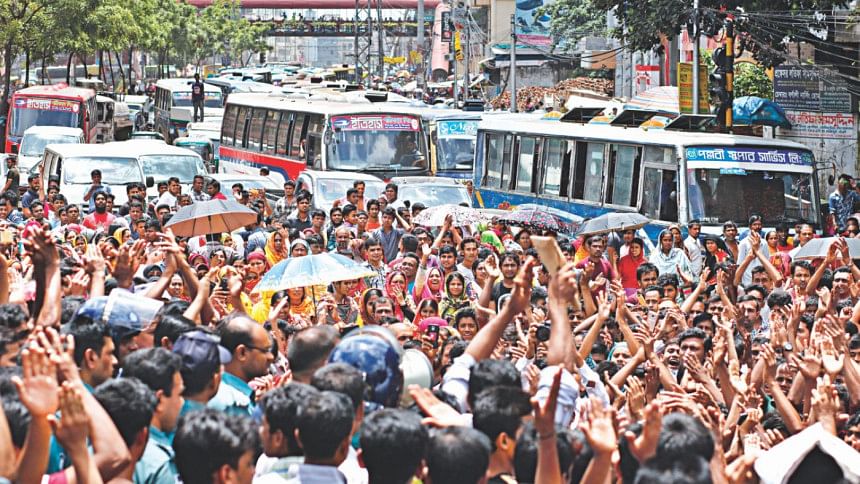 Several hundred workers of a garment factory blocked two streets in Mirpur-1 area for around 12 hours yesterday, protesting the sacking of their co-workers.
The workers of Meridian Fashions Ltd also clashed with law enforcers that left at least 10 people, including two policemen, hurt. They attacked some vehicles and threw brick chunks at nearby garment factories as well, say police and witnesses.
The protesters became furious as they found a notice hanging on the main gate of the factory in Mirpur-1 in the morning.
The notice read that the RMG unit shall remain closed till Thursday and it might not reopen for a "longer period if the situation did not improve".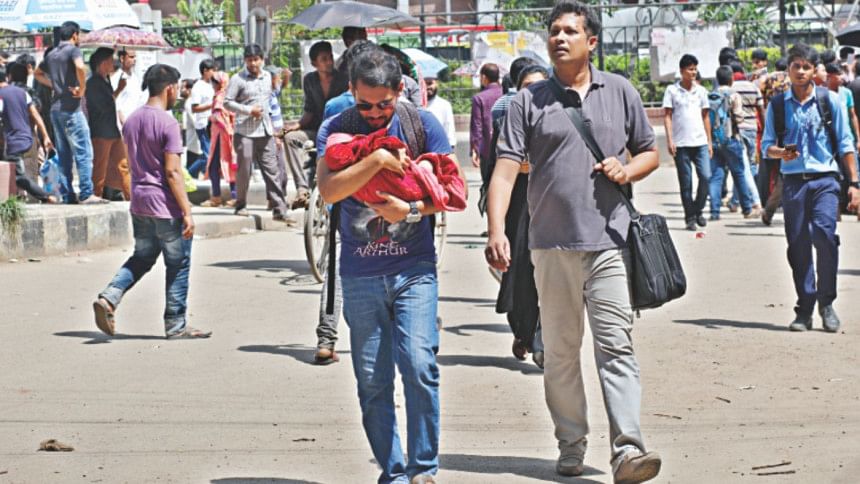 The notice was put up on Sunday night after some workers protested the termination of 22 fellow workers the previous day. The 22 were sacked following workers' demonstrations over arrears. 
Finding the notice, the workers took to the streets in front of the factory around 8:00am yesterday, say witnesses.
As workers from nearby factories joined in, the demonstrators blocked the two streets in front of Sony Cinema Hall around 10:30am, putting hundreds of commuters and schoolgoers in trouble. People were seen walking to their destinations amid long tailbacks.
A worker, wishing not to be named, said the authorities of the garment factory were paying their wages after the 12th of each month. Also, they were rumours that the factory might be moved to Gazipur after this Eid-ul-Azha, she said.
 "We have long been demanding salaries by the seventh of each month and compensation in case the factory is relocated," said another worker, who termed the termination of his co-workers illegal.
"The authorities have now shut down the factory instead," the worker said, adding, the factory has some 700 workers.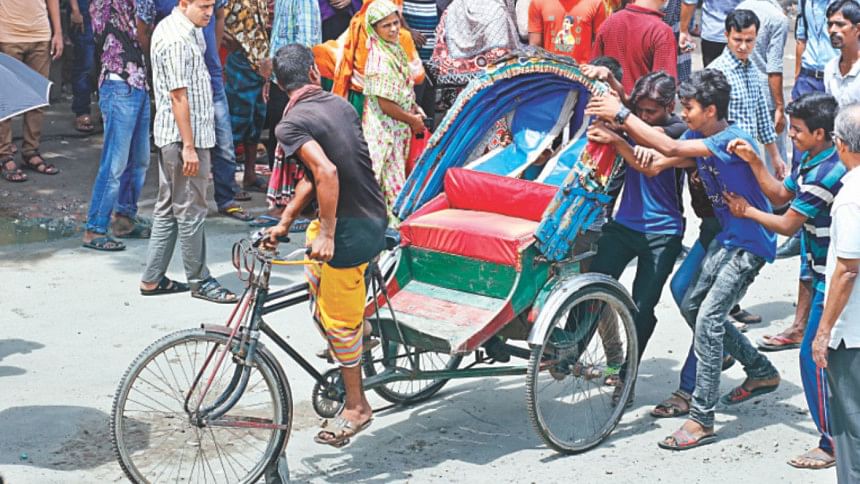 Contacted, Jashimuddin Mollah, additional deputy commissioner of police (Mirpur Zone), told The Daily Star that they went to the scene and tried to calm down the protestors through discussions.
Police said a clash ensued as they were "attacked without provocation".
A good number of law enforcers were deployed in the area.
There was no report of any arrests.
Later in the day, the management of Meridian decided to reopen the factory today, said Siddiqur Rahman, president of Bangladesh Garment Manufacturers and Exporters Association (BGMEA), the garment makers' platform.
The BGMEA mediated between the factory management and workers and both the parties agreed to work together from today, Siddiqur said after a meeting with the owner and workers at the association office.
Hearing about the decision to reopen the factory, some protesters started leaving the streets around 8:15pm.
The rest left after workers' leaders reached the spot around 10:30pm, said several workers.