Joj Mia demands capital punishment of Tarique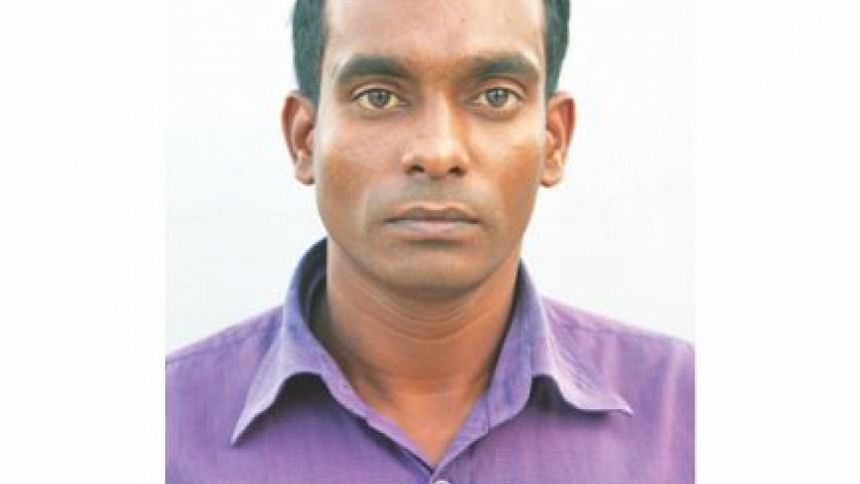 Joj Mia, the man who was falsely-implicated in the August 21 grenade attack incident, today said he is not fully satisfied over the verdict as the mastermind of the attack BNP's acting chairman Tarique Rahman was not awarded death penalty.
"I am satisfied indeed but not fully pleased as Tarique Rahman was not given death penalty," Joj Mia in his impromptu reaction told The Daily Star over phone hours after announcement of the much-awaited verdict of the August 21 carnage.
Describing Tarique Rahman as the mastermind of the gruesome attack, Joj Mia said he would be more satisfied if the BNP leader were awarded death penalty.
"I hope the high court would award him (Tarique) death penalty for masterminding the attack," Joj Mia said.
He said he has lost five years from his life in the jail as he was falsely implicated in the grenade attack incident.
"I want compensation for wellbeing of my life and family members," he added.
A special tribunal in Dhaka today awarded death penalty to 19 people including former junior home minister Lutfuzzaman Babar and life imprisonment to 19 others including ex-premier Khaleda Zia's son Tarique Rahman in connection with the deadly grenade attack on August 21, 2004 that left 24 dead and hundreds injured.
After the grenade attack incident, Joj Mia's name made headlines after he was implicated in the case and he was tortured in police custody to confess to a crime he didn't commit.
When the government changed, he was released from jail in 2009, having been robbed of five years of his life.
The new government made pledges of rehabilitating him and promised him employment.
He was 25-years old when he was picked up and used to make a living by selling posters and cassettes near Gulistan Cinema hall.
After his case, his family lost their ancestral home in Senbagh, Noakhali, in the six-year-long legal fight for his release.
He, however, tried to begin afresh, managed to get employed as a private car driver and got married two and a half years ago.
These days, he says he still feels pain in the limbs that were fractured while he was tortured in custody.
Joj Mia's sensational story began when he was implicated as part of a plan to save the actual culprits of the August 21 attack on an Awami League rally in the capital in 2004.
He was picked up from his Senbagh house in Noakhali on June 10, 2005.
Joj Mia, who was initially clueless about the reason behind his arrest, was first taken to Senbagh Police Station. Later, Criminal Investigation Department (CID) officials brought him to the capital and tortured him.