Aug 21 grenade attack
Sheikh Hasina: Unhurt, yet not unaffected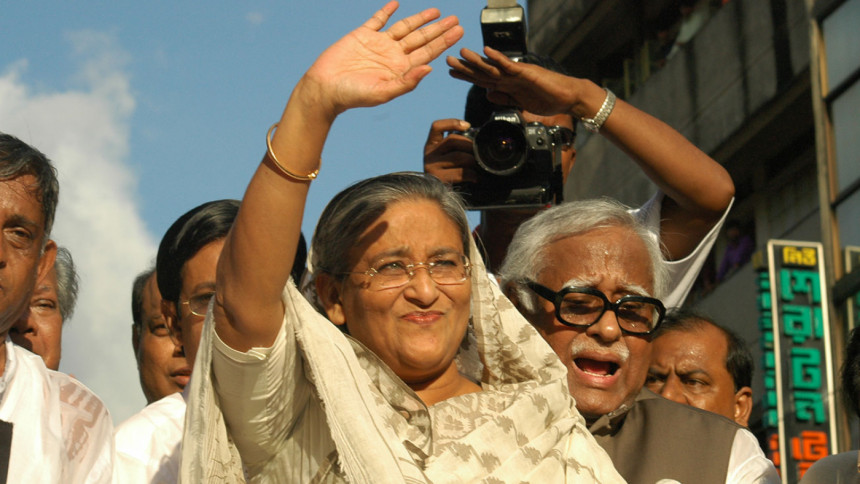 The grenade attack on an Awami League rally on August 21, 2004 was launched targeting AL President Sheikh Hasina in an attempt to assassinate her, and left 24 dead and scores injured. 
Although Hasina managed to escape the attack unhurt, she was not unaffected.
The blasts hurt her ears causing permanent damage that resulted in loss of hearing. 
The grenade blasts made a small hole on the windowpane of the then leader of the opposition's car; but the driver with sheer luck ran the vehicle through the carnage and Hasina reached home within minutes. 
Initial television reports stated that Hasina had escaped death but she suffered from loss of hearing due to an injury in her ear.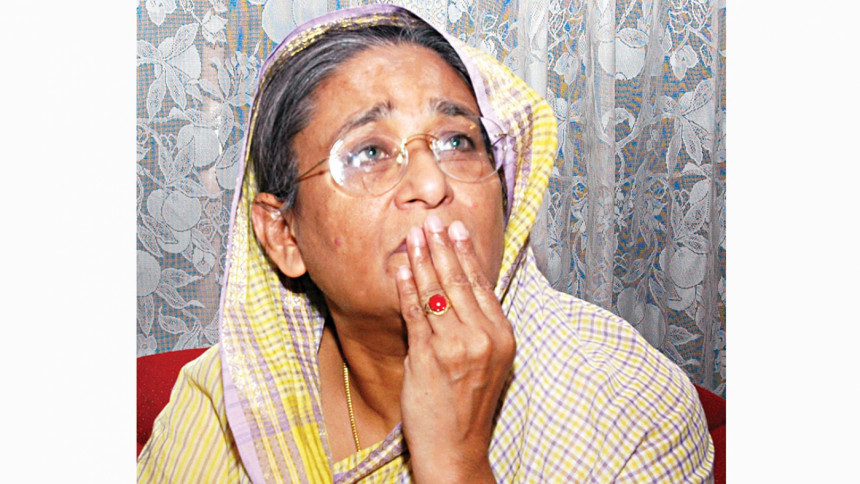 Three days after the blasts, her physicians on August 24 said the opposition leader would take six to eight weeks to fully regain her hearing impaired by the thunderous bang of grenade blasts.
"The opposition leader has lost 40 decibel of hearing ability in her right ear and 35 decibel in her left ear," Dr Pran Gopal Dutt told reporters after a medical check up of Hasina at Sudha Sadan on August 24 morning. 
Dr Pran Gopal Dutt and Prof Ahmed Amin jointly conducted the check up.
"Blood inside her right ear got clotted due to the tremendous bang but it will be cured normally," the doctors said, adding that she would not need surgery for her recovery.
However, the condition of her ears turned out to be much more complicated than the initial diagnosis by the doctors.  
Sheikh Hasina had to repeatedly pay visits to doctors in Singapore and USA for the same problem in the subsequent years.
Through tenuous treatment procedures, she got hearing aid devices installed in her ear at a US hospital. She also got the devices and software of the hearing devices updated from time to time.
In 2008, while she was detained by the then interim government after 1/11 takeover, condition of Hasina's hearing deteriorated and the govt released her for treatment after her doctor's repeated appeals in this regard. 
"If she is not sent abroad for treatment she could become permanently deaf," said Prof Pran Gopal Dutt on March 9, 2008, adding that proper treatment of her ears is not possible here.
Talking to reporters after seeing Hasina, he said the AL chief could not hear well with her left ear while she was suffering from a continuous noise in the right ear.
The government freed Hasina on June 11 to facilitate her treatment abroad. She went to the USA the following morning. 
Finally, the doctor there, ear specialist Dr Michael B Fosi, said that her ear has been permanently impaired, adding that there was no possibility of success in repairing her right ear even after treatment. 
But she could then hear fairly with her left ear after doctors adjusted the hearing device installed into her ears, the doctor said. 
She has been living since then with the assistance of hearing aid devices. 
Apart from hearing damage, some other complications including those of her eyesight, blood pressure and allergy also resulted from the August 21 grenade attack.
Hasina's personal physician Prof Modasser Ali, an ophthalmologist, on August 20, 2008 told The Daily Star quoting the doctors in USA, "The US doctors said that three of the complications except for the hearing problem are late consequences of the grenade attack."