Sparks fly as Riaz-Mou go on camera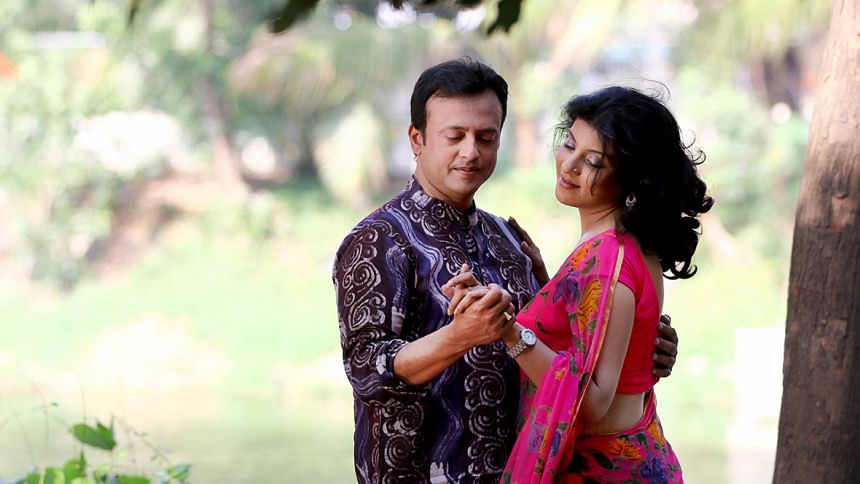 On a hot sultry day, a group of starry-eyed people crowded around Dhanmondi Lake to get a glimpse of a shooting in progress. They were all the more excited because the stars in question were Riaz and Mou, giving shots for a song sequence for their upcoming telefilm.
The glamorous Mou, in a gorgeous shocking pink chiffon saree, first shot a romantic scene with the cool Riaz. By the end of the 20 minutes it took to shoot the scene, the number of enthusiastic onlookers had doubled.
Many youths, particularly college and university students, were wide-eyed, getting a glimpse of their favourite actors in action.
Mou came again on the spot with a change of wardrobe, while Riaz had changed his t-shirt to a brighter hue.
All eyes remained glued on the duo, filming on a busy street in broad daylight, and the crowd continued to grow as news spread in the vicinity.
The scene unfolded as Mou and Riaz went on to buy ice-cream from an ice-cream cart. However, the oncoming traffic created a mess, delaying the shooting. In the end, the assistant director himself arrived at the road to control the traffic so that the scene could proceed smoothly. It took around 10 minutes to complete the shot.
In the meantime, people approached the actors to take selfies with them. Riaz also posed with them until the crew requested people not to interrupt the shoot.
Riaz and Mou finished their lunch sitting on the bank of Dhanmondi Lake. Curious onlookers kept following their favourite actors.
Sajal, who is also playing a role in the tele-film, arrived on the spot.
The tele-film has been directed by Nuzhat Alvi Ahmed based on a script by fashion designer Emdad Haque.
Riaz plays Parvez in the telefilm, while Mou plays Nabonita and Sajal will be seen as Mansur.
Emdad Haque said, "The story is inspired by the real life story of my friend Nabonita, who is no more in the world."
Riaz said, "The script is so interesting, and it felt really good to be a part of the tele-film."
The shooting ended in the evening, and before leaving the spot, the director said, "The story is extraordinary, and I am excited about it."