'The Earth is Closing on Us - Rohingya Refugees in Exile' at Chobi Mela X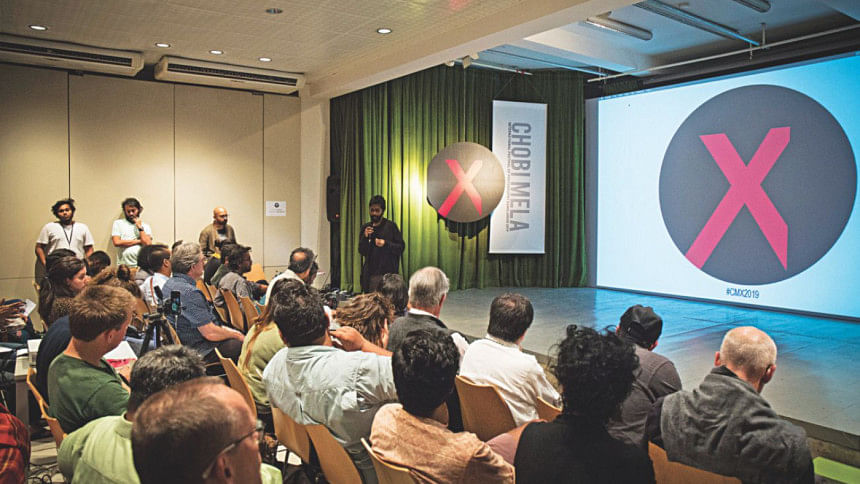 "The Earth is closing on us

pushing us through the last passage

and we tear off our limbs to pass through.

The Earth is squeezing us.

I wish we were its wheat

so we could die and live again.

I wish the Earth was our mother

so she'd be kind to us.

I wish we were pictures on the rocks

for our dreams to carry as mirrors."
The aforementioned, are the first few lines from the poem The Earth is Closing on Us, by Palestinian poet Mahmoud Darwish. The poem is based on the plight of the refugee crisis. According to UNHCR, a refugee is someone who has been forced to flee his or her country because of persecution, war or violence.
The name of the programme titled, 'The Earth is Closing on Us - Rohingya Refugees in Exile' was adopted from the poem and curated by Sarker Protick and Munem Wasif at Goethe-Institut Bangladesh during Chobi Mela X. The screening comprised of photographs taken by John Vink in 1992, documenting the Rohingya refugees fleeing to Bangladesh back then, along with the more recent works of Munem Wasif, Saikat Mojumdar, Saiful Huq Omi, Anastasia Taylor-Lind, Syed Asif Mahmud, Moises Saman, Sawangwongse Yawnghwe,  Kevin Frayer, Dar Yasin, Walid Saddam Topu and François X Klein.
The programme showcased cheerful moments the refugees are trying to create at the camps, along with the inexorable aftermath of their sufferings. Even though the audience seemed well-aware about the systematic persecution of the Rohingyas, the video clips and photographs showcased on the screen, paired with the carefully composed audio, managed to engage the onlookers with melancholy. So much so that by the end of the session, there were many pairs of eyes glistening around the houseful hall. One of the most gripping photographs displayed was that of Hanida Begum, a Rohingya mother, holding her deceased baby who drowned when their boat capsized during the exodus. Their photos also gained much attention across local and international media.
The screening was followed by an atrist talk by Jan Banning, who showcased and discussed his intriguing work with the audience.