'Don McCullin – The Impossible Peace' by Robert Pledge at Chobi Mela X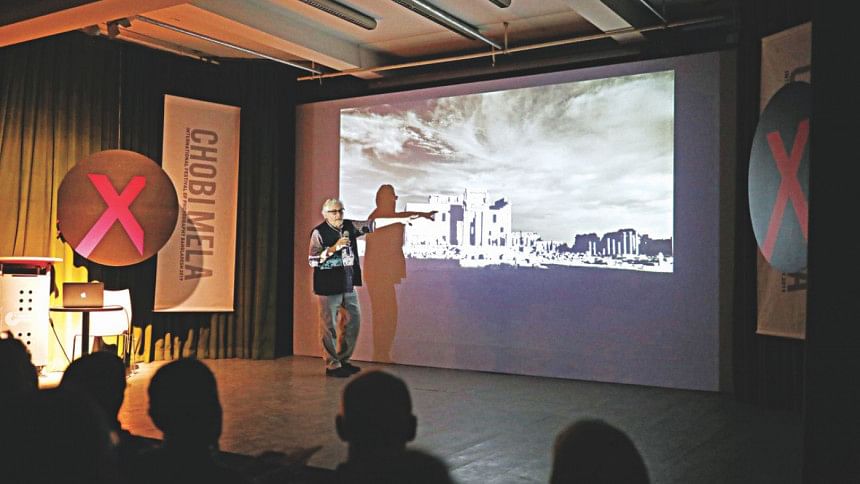 A programme titled 'Don McCullin - The Impossible Peace' was conducted by Robert Pledge on the second day of the Chobi Mela X, at Goethe-Institut Bangladesh.
Born in 1942 in London, Robert Pledge moved to Paris at a young age. Having a background in West African languages and Anthropology, he later ventured into journalism as a specialist in African affairs. In 1973, he was the director of the picture agency, Gamma and in 1976 he founded Contact Press Images in New York with American photographer David Burnett. As a curator of major exhibitions worldwide, Robert also served as a member of esteemed international juries, including that of World Press Photo Foundation.
Robert's sense of humour had the audience captivated from the get-go. His dialogue gave insight into Don McCullin's photographs on war, which were exhibited worldwide and gained much recognition. Born in 1935 in London, Don McCullin is considered as one of the most iconic photographers in his field. 'Don McCullin - The Impossible Peace' catalogues photographs of remarkable moments from his life, including his most illustrious assignments in Germany, Vietnam, Cambodia, Bangladesh, West Africa and the Middle East. His thought provoking black-and-white photographs over the last five decades helped shape consciousness about warfare and its consequences. Don McCullin is amongst the few photographers to have ever been knighted. He also won several accolades over the years, including the World Press Photographer Award and the Warsaw Gold Medal.
During an interview with The Daily Star, Robert mentioned, "Don McCullin is well-reputed amongst the older generation of photographers, but I feel the new generation will equally appreciate his work." He further added, "His coverage on the 1971 Liberation War of Bangladesh was well-received overseas, so I thought it would be great to showcase the photographs here." Even though there is nothing great about war, the cascading images displayed on the screen, each with its own momentum, had the house-full audience awestruck, as it took them on a journey across the various ruins and landscapes around the globe.