"Speaking at the UN will be my greatest achievement" - Sheena Chohan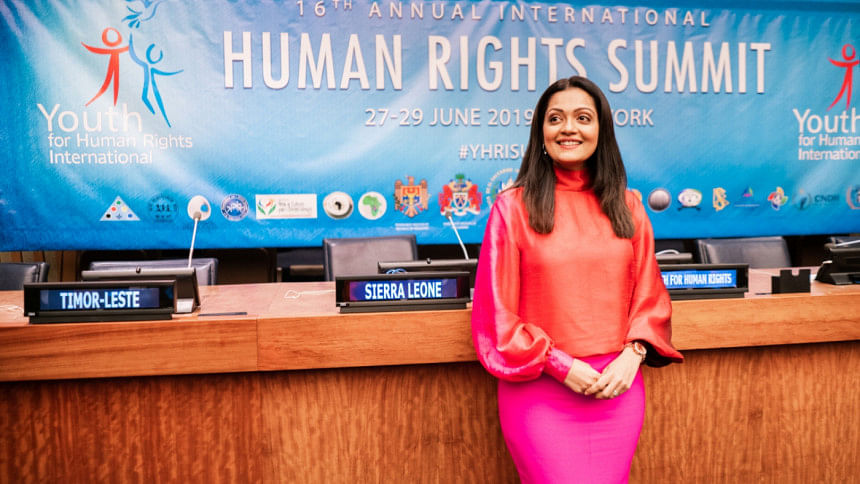 Crowned 'Miss Kolkata' while still in high school, Sheena Chohan went on to participate in Miss Universe, and subsequently made a notable career in film and television. She was recently awarded the prestigious Human Rights Hero Award at the United Nations in New York, for her work enlightening more than 36 million people about their Human Rights. The Daily Star caught up with the renowned actor for an exclusive interview.
Congratulations on being selected to speak at the United Nations on behalf of Youth for Human Rights, the largest education programme in the world. As an award-winning actor, where do you place this achievement in your career?
Thank you so much. Being able to speak at the UN will be my greatest achievement, because of the effect that it will have. When I was nominated as the Best Actress at the Shanghai and Dubai Film Festivals or when I was picked by Mammootty to star alongside him, I felt like it changed my life. However, at the UN, I am calling for mandatory human rights education across the world - that can change every life. Gold statues on a shelf are not valuable to me – a smile on a disadvantaged child, or a life I was able to save, makes me genuinely happy.
You have worked as the ambassador of Youth for Human Rights for eight years. Tell us about your role in the organisation.
My role is to use my voice to achieve our goals in South East Asia - human rights education for all. As an actor, I have reach and meet a lot of influential people. My job is to use that power to inform people about the Universal Declaration of Human Rights, and ask them to help in the call for mandatory human rights education in schools. Through my Netflix featured film, Ant Story, I got so much attention that I was able to get Youth for Human Rights free education kits in the curriculum for over 30 universities!
What are your current film/television projects?
Something that is dear to my heart, is a film by the late great director Bappaditya Bandhopadhyay, where I star alongside Rajashree Deshpande and Bidita Bag. It will soon be released in International film festivals. It is surreal, very unusual, and quite forward thinking. We lost Bappaditya just days after the shoot, so it's bittersweet, and its release will be very emotional. After that, I will be back to Kolkata to finish a shoot for director Ayan Chatterjee, where I'm starring alongside Kaushik Ganguli and Saswata Chatterjee.
Among the many achievements you have in your career, which one is your most memorable?
Being brought up in Kolkata, and then winning Miss Kolkata in school kick-started my career. Then I went on to win a title under Miss universe India, mentored by Sushmita Sen. I feel like working on two films for National Award Winning Director Budhadeb Dasgupta was an experience I can't forget - his attention to detail, his artistry - I learned a lot. Working with Mostofa Sarwar Farooki in Ant Story changed my life as well.
However, I am speaking at the United Nations, and I can't think about anything else - my speech on the world stage is one performance that I know that I will never forget.
What are your ambitions for the future?
I want to ensure mandatory human rights education in all schools in South East Asia. I also look forward to playing powerful roles in films which inspire, touch, entertain and change lives.