"Hip hop changed the course of my life" – Black Zang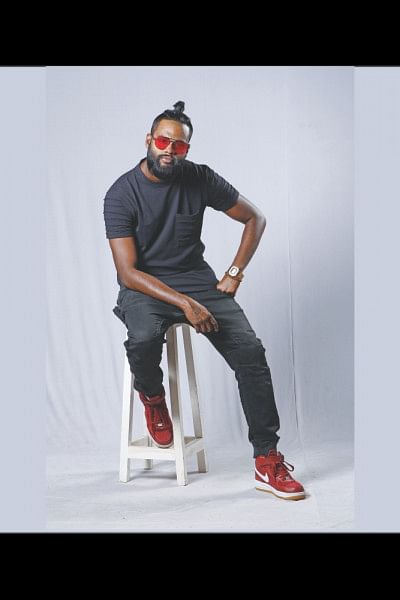 The presence of hip hop culture in the Bangladeshi music industry was not as prevalent even a decade ago. However, the scene has changed drastically over the years. Asiful Islam Sohan, who goes by the alias Black Zang (BZ), is one of the prominent artistes in the game. One day while playing around with Bangla words, he realised that he could write rhymes in his mother tongue. Ever since then, he has been honing his craft.
BZ came under the limelight with the song Aie Mama Aie, featuring his crew Uptown Lokolz, back in 2009. "When I began penning my lyrics from a young age, I observed all that was going on around me," states BZ. "I just took that reality and incorporated it into my lyrics."
Over the years, BZ participated in various shows at home and abroad. He even hosted a programme for a renowned radio channel, which was immensely popular amongst the hip hop community. In 2015, the US Department of State organised a cultural exchange tour, where artistes from six different countries were invited. BZ represented Bangladesh during that event. Later in 2017, he attended a festival upon invitation in UK. Recently, he also served as one of the judges along with two others, for a domestic reality show. "Hip hop changed the course of my life," says the rapper.
The essential elements that define hip hop are MCing, DJing, break dancing and graffiti painting. According to BZ, the hip hop scene in Bangladesh gained much momentum since its introduction, and now has dedicated and talented artistes in all four sectors. "From what I have seen, I feel that the communities outside Dhaka are even more enthusiastic than we are. Their determination to excel is truly inspiring," explains BZ. "The reason why I feel hip hop resonates so well with Bangladesh is because our nation was born out of struggle, and hip hop too, reflects on struggles."
Competing with himself on a regular basis to enhance his skills, his last hit was BZ BARZ, produced by Los Angeles based Bangladeshi music producer, MOGZ. BZ intends to continue working with him for his upcoming tracks, including the latest, Grateful.