F Minor: Winning hearts through diversity and rhythm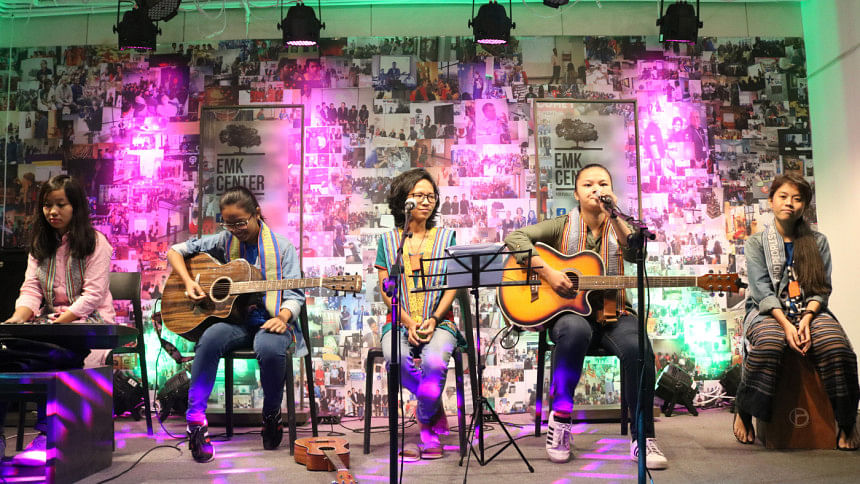 Each year, International Day of the World's Indigenous Peoples is celebrated across the globe to acknowledge and honour the ethnicity, traditions and cultures of indigenous groups. In our country, indigenous groups have diverse and rich cultural traditions that are part and parcel of Bangladesh's culture.
With new and versatile bands on the rise, several indigenous bands of our country are thriving as well. F Minor, the first indigenous female ethnic folk band of our country, conquered the hearts of the audience in the span of only four years.
On October 26, 2016, musician Jadu Ritchil, along with co-founder Antar Sku founded F Minor with an intention to represent the music of indigenous people in Bangladesh.
The five-member band features lead vocal Pinky Chiran, Nadia Ritchil on side guitar, ukulele and vocal, Glorya Manda on lead guitar; Diba Chicham on kahon and Akiu Marma on the keyboard. Currently studying in Dhaka, the members represent different ethnic communities, as Akiu represents the Marma community while the rest of them represents the Garo community.
The name F minor, deriving from the guitar chord of the same name, represents several aspects of the band, as F stands for female, five, freedom and fighter simultaneously.
F minor not only represents indigenous culture and music, they represent the traditional Bengali folk music as well. Along with Bengali, the songs are sung in several other languages as Garo, Chakma, Marma, Tanchangya, Hajong and Tripura among others.
"The feeling of representing indigenous culture on a big stage or concert is surely indescribable and cannot be expressed in words," expresses Akiu as she shares the experiences on performing in different platforms.
As the first female indigenous band of the country, F Minor's songs strongly emphasises on women rights and women's independence. "We are not working for the indigenous or tribal people only, we are working for women's rights, women's recognition as well," shares lead vocal Pinky. "We want to talk about women's lives, their struggles, their achievements through our music."
While their song, Somosto Din, pays tribute to women and highlights the daily struggles and sorrows of women, other elements of their performances inspire and recognise women from all walks of life. Their most popular song, Jongla Phul, introduces the audience to the essence of the hills, while another popular song, Nachbe Pahar, celebrates life and rhythm of festivals Biju, Boishuk and Sangrai.
Every band has a story behind the curtains, the story of their struggles, hard work, challenges, anecdotes and many more. For F Minor, the support and love they get from the audience and well-wishers, the bond they share with each other gained them their much deserved popularity and appraisal.
 "We help each other out, we support each other in preparing, rehearsing and performing the songs, as we come together representing the band," expresses Glorya. "Forming a band is a fairly easy thing to do, the real challenge is sustaining the band for the long run. If the members of a band understand each other, help each other grow, sustain strong bonds with each other- only then can a band form their own signature in the industry," adds Akiu.
"From performing on small stages onto bigger platforms, we have yet a long way to go, a lot more to learn, a lot more to achieve," expresses Akiu.
"We want to see ourselves among the top rated bands of our country in the future," expresses the ever-smiling Diba Chicham while talking about their goals and dreams.
"As indigenous people, we have a different sense of individual identity and we want the audience to acknowledge us through that distinct identity," shares Pinky on commemorating the International Day of the World's Indigenous People.
From making the first prominent appearance at the Garo Wangala Festival 2016 to performing in this year's Joy Bangla Concert, F Minor came a long way in establishing themselves among the powerful bands. With an intention to represent indigenous culture on big stages at home and abroad, F Minor continues to inspire and entertain.