An evening of inspirational poetry at Bishwo Shahitto Kendro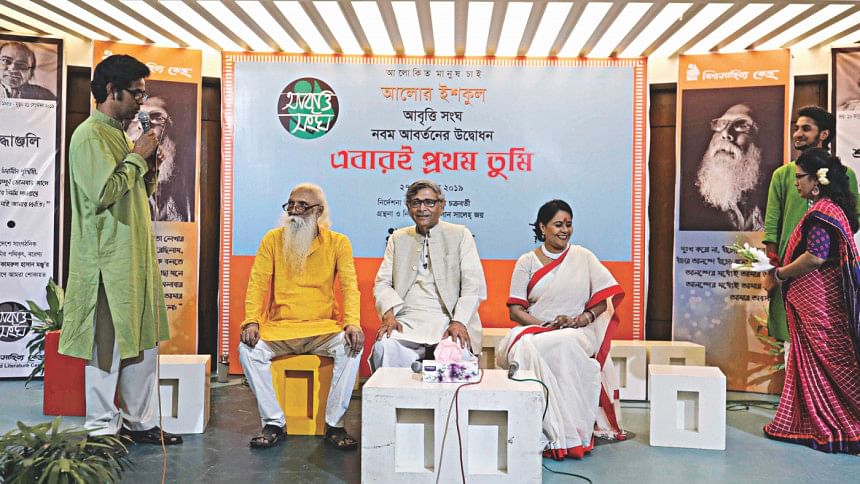 Members of Alor Ishkool recently held the ninth instalment of their poetry recitation programme, Ebari Prothom Tumi, at Bishwo Shahitto Kendro. The chief guests of the evening were Nirmalendu Goon, eminent poet and winner of Ekushey Padak, among other awards, and Professor Abdullah Abu Sayeed, founder of Bishwo Shahitto Kendro. The organisers dedicated the event to deceased elocutionist Kamrul Hasan Monju.
During the first half of the programme, the participants recited powerful and thought provoking poems, written by Nirmalendu Goon. The event took place under the direction of Hasan Saleh Joy, while Rupa Chakraborty, Assistant Professor, Institute of Modern Languages, University of Dhaka, was present as the directorial adviser.
After the recitations, Hasan Saleh Joy presented an uttorio to Nirmalendu Goon and Rupa Chakraborty, respectively. Later, the aforementioned names, along with Professor Abdullah Abu Sayeed, addressed the audience. The speakers spoke highly about the importance of poetry in our culture and how Nirmalendu Goon's eloquence as a wordsmith, contributes to the art, and continues to play a vital role in our literature.
While congratulating the newcomers to Alor Ishkool, Rupa Chakraborty also remembered what a great personality Kamrul Hasan Monju was. She also highlighted the prominence of poetry during her talk.
Professor Abdullah Abu Sayeed recalled his memories with the poet from his early days, and shared some interesting instances with the audience. He further congratulated the individuals who helped take Bishwo Shahitto Kendro to new heights, ever since he left the organisation to embark on his journey as an educator.
When the microphone was placed in front of Nirmalendu Goon, he took the audience by delight with his humble sense of humour, and had them laughing heartily. He recalled incidents from his early days as a poet and shared other memorable moments from his life. He applauded the organisers for arranging such an occasion to nurture the art of poetry. He further informed that he is currently busy, more with reading and translating foreign literature, rather than writing his own poems.