A Chat With An Unusual Detective
'Eken Babu O Dhaka Rahashya' to release today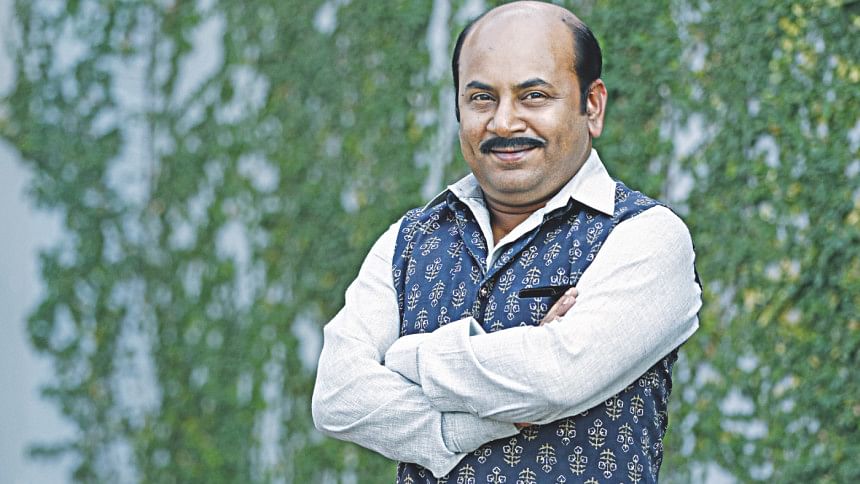 Bengali literature, television and cinema are no strangers to detectives. Feluda and Byomkesh Bakshi are two of the many bigshots in the sleuth industry of Bengal. Keeping up with the family of Bengali detectives, comes Eken Babu, a quirky and hilarious investigator, on popular streaming platform Hoichoi's web series of the same name. After the successful run of its first two seasons, the third season of Eken Babu, directed by Abhijit Choudhury, is set to release today.
The latest season, Eken Babu O Dhaka Rahashya, sees the detective and his two friends, Bapi and Pramatha, in Dhaka. The Daily Star caught up with Eken Babu (Anirban Chakrabarti), during his visit to Dhaka, to find out more about his life.
One's first glance at Eken Babu, a man with a bald head, round face and sweet smile on his face, might just throw him/her off a bit. He has a silly-as-a-goose nature that is mildly annoying. Yet, he is witty and unusually intelligent. "I feel a sense of responsibility to find out how and why something happened. People around me, including my friends and loved ones, find my obsession with solving crimes quite bothersome, but I can't help it!" laughs Eken Babu.
Eken Babu received mixed reactions when he arrived at an apartment in Bangalore. He later found out that Kirit Patel, a resident of the apartment, was dead. As police started their investigation to find out the reason behind Kirit's death, Eken Babu was no less keen to know the cause as well, which eventually led him to the answer. Similarly, Eken Babu stepped in to solve another murder case in Bangalore in unexpected ways.
"I can relate to people really easily," says Eken Babu. "My resemblance to an investigator is unlikely, which is why people easily let their guard down in front of me. I believe that is my biggest asset when it comes to solving crimes."
Eken Babu and his two friends, Bapi and Pramatha, came to Dhaka to attend the Dhaka Lit Fest. They have been invited to a dinner party by Mahmud, their host in the city. To find out whether Eken Babu is warmly welcomed to Dhaka, or he gets wrapped up in yet another murder mystery, catch Eken Babu O Dhaka Rahashya on Hoichoi.