A soulful rendition for doctors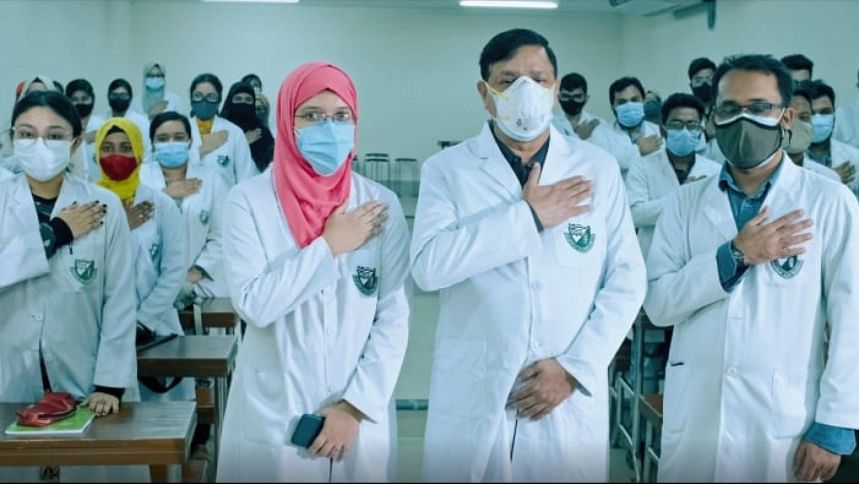 Sabbir who rose to fame through the second edition of Closeup 1 competition has come up with a new rendition dedicating it to the doctors.
The music video of the song titled 'Arogya Shilpi' (the healing artist) was launched on March 30 on the occasion of National Doctors' Day on Meditainment YouTube channel.
The inspiration of this song is to make the relationship between the physician and the patients more harmonious and respectful, said doctors.
The singer told the media that usually there is not a single song in our country featuring the woes and joys of doctors. Physicians dedicate their entire lives to patients. They also have families, families and loved ones. But they have to rush to the hospital as soon as the emergency call comes. In this song, the sacrifice of true super heroes has been highlighted.
The song was written by Dr Muhibbur Rahman Rafe and Akbar Hossain Inna composed it while H Al Banna directed the music video.
Dr Saklayen Russel, Dr Saidul Ashraf Kushal, Dr Sushma Reza, nutritionist Ayesha Siddique, Dr Kaniz Fatema Tanvi, Dr Sushmita, Labiba Tasnim, Ahmed Sabbir, Faizul Fahim, Mishti and Rudaba Nafis, among others, have been featured in the music video.
Abu Hanif Noman supervised the overall production of the song.
Lyricist Muhibbur Rahman Rafe said, "I have tried to express the words that have come to my mind at different times for five long years."
"Physicians and patients are dear to each other. If this song can play the slightest role in bridging the gap between them, then I think my efforts have been successful," he added.