BAMBA's farewell tribute to Ayub Bachchu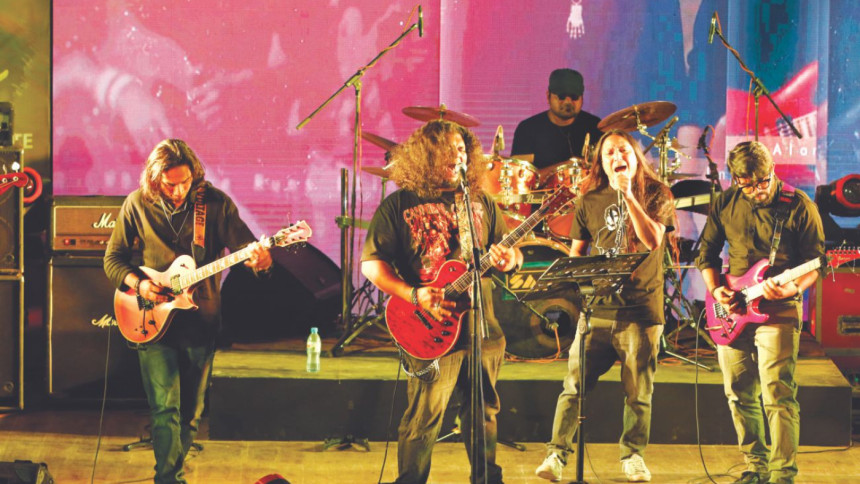 It was difficult for the members of Bangladesh Musical Bands Association (BAMBA) to process the shock that was the passing of Ayub Bachchu, whom they dearly referred to as simply 'AB'. After the Farewell Tribute show organised by BAMBA at the Music and Dance Centre Auditorium at Bangladesh Shilpakala Academy (BSA) yesterday, it was clear that the entire music fraternity was far from accepting the loss of Bangladesh's pioneering guitarist, even after a month had passed. ""The fact that people from all walks of life were affected by the departure of Ayub Bachchu is testament to his greatness as an artiste," said Asaduzzaman Noor, Minister of Cultural Affairs and chief guest of the event. "I was fortunate enough to have personally known him since his starting days; he was an immensely passionate person." Also present at the event was Liaquat Ali Lucky, the Director General of BSA.  The programme, hosted by musician and cultural activist Maqsoodul Haque, began with a minute of silence for the maestro, followed by a touching AV showing some of the various achievements of his illustrious career.
BAMBA treated the show as not just a ceremony, but a wonderful celebration of the life and career of Ayub Bachchu. Hamin Ahmed, the President of BAMBA, was visibly emotional while talking about the late musician. "When Ayub Bachchu started his career, the guitar wasn't as prominent as an instrument. He made sure that it was the heart and soul of his music, and the entire country followed. That alone is enough to explain his legacy," he said.  On the other hand, Bappa Mazumder remembered Ayub Bachchu for his compassion.  "The great man not only taught us about music, but how to be humane. I always admired how much he loved his mother, and requested other people to take care of their parents," he said.
Members of BAMBA, irrespective of the bands they played in, came together to celebrate the iconic creations by AB. Some of the notable performances of the night were Shafin Ahmed's heartfelt cover of Keu Shukhi Noy, Bappa Mazumder's beautiful rendition of Rupali Guitar and Powersurge frontman Jamshed Chowdhury's powerful homage with Neel Bedona. In addition, Emil from Shunno and Sufi from Arbovirus paired up for a performance of Bangladesh. The raw emotion from the performers and the audience alike during the show indicated that the great man would live through his music for many, many generations to come.