Sahana returns with - Ja Bolo Tai Bolo - Rabindra Sangeet album set for Dhaka launch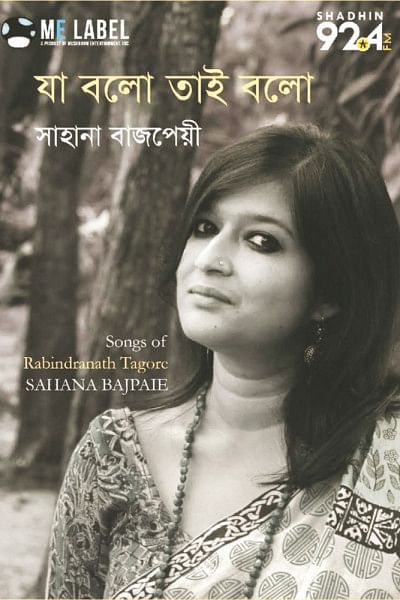 Sahana Bajpaie, who made waves with her first Rabindra Sangeet album "Notun Kore Pabo Boley" in 2007, may have long left Bangladesh, but she still has a special place in the hearts of many back here. Eight years later, that voice of innocence and exuberance is returning, as the artiste just released her new album of Rabindra Sangeet, titled "Ja Bolo Tai Bolo". Although the album came out under an Indian label (Major 7th) in Kolkata, India yesterday, her Bangladeshi fans may not have to sigh in sadness of not getting a copy, or wait too long for one. 
ME Label, the record banner for Mushroom Entertainment, is releasing the album in Bangladesh today. The event will be held at the Longitude Lattitude's Art Gallery in Banani this evening, where Sahana herself is set to make a Skype appearance. Acclaimed filmmaker Mostofa Sarwar Farooki, Shehzad Chowdhury of Longitude Lattitude, Mir Rabby from Radio Shadhin (the radio partner for the launch), Armeen Musa from ME Label and special guests Srabanti Dutta and Gitanka Dutta will be present to launch the CD. 
"Ja Bolo Tai Bolo" contains 12 Rabindra Sangeet numbers, recorded in London and Kolkata, where Sahana currently splits her time. Eight of the tracks are arranged by Samantak Sinha, while one is arranged by Zoe Rahman and Idris Rahman and one by Probudhha Banerjee.  
The album is currently being played exclusively on Radio Shadhin 92.4 FM.
The album is available for download on etunes in mp3, as well as caller tunes . Limited CDs will be available from Jatra and rokomari.com, as well as selected music outlets in the city in the following weeks. Digital downloads are also available for all major online platforms globally.