Rabirashmi hosts 'Boshonter Madhuri Utshabe'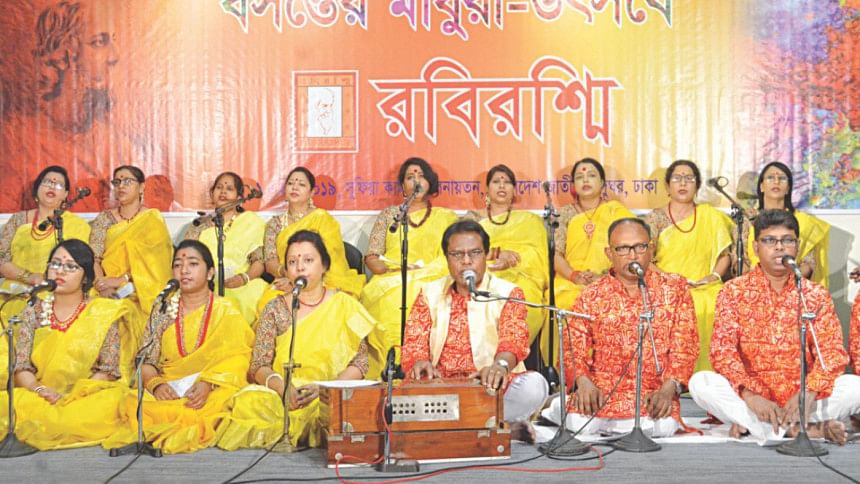 Rabirashmi, an organisation dedicated to working with Rabindranath Tagore's lyrical works for over two decades, hosted Boshonter Madhuri Utshabe on Monday at the Begum Sufia Kamal Auditorium of Bangladesh National Museum. The programme started with a group performance of Aguner Poroshmoni by Rabirashmi singers, who later welcomed the honourable guests with flower bouquets. The director of Rabirashmi, Mohadeb Ghosh, presided over the progamme and presented the honourable guests, from Agartala, with uttorios. He delivered a welcoming address in which he thanked the audience and talked about his personal experiences of working with Rabindra Sangeet and the Agartala singers. He also discussed the regular activities of Rabirashmi.  Group and solo performances of Rabindra Sangeet by the Rabirashmi singers and recitations of Rabindranath Tagore's literary works mesmerised the audience at the programme.
As guest singers, Rita Chakrabarti, Sarbani Das Datta, Kingkar Narayan Datta and Shaoli Roy from Agartala were present at the programme. Shri Kalyan Gupta, distinguished poet and general secretary of Tripura Rabindra Parishad, Agartala, and Shri Amit Bhoumik, distinguished journalist and cultural personality, received the Rabirashmi Shommanona 2019 from Rabirashmi. The programme also included speeches by Sarbani Das Datta, Rita Chakrabarti, Shri Amit Bhoumik and Shri Kalyan Gupta.