Fakir Alamgir: Voice for the oppressed falls silent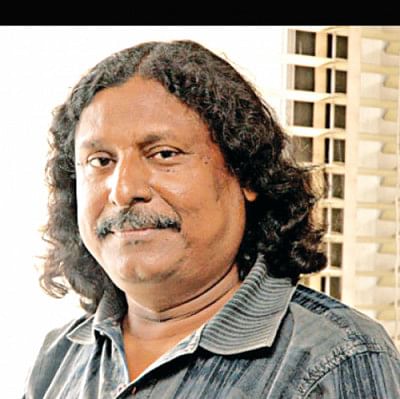 On March 23, 1971, people were throwing out Pakistani flags and putting up Bangladeshi flags in different areas of the country in opposition to the cruel Pakistani regime.
A young and sturdy man, who had been a powerful voice in the mass upsurge in 1969, was doing the same in his neighbourhood in Dhaka's Khilgaon. His name was Fakir Alamgir.
Throughout the cowardly attacks by the Pakistani armed forces, the determined freedom fighter, along with his ragtag troupe of unarmed activists, kept conducting activities to strengthen Bangladesh's fight for independence.
The legendary folk singer and freedom fighter passed away yesterday at 10:56pm at the capital's United Hospital. He was 71.
The news was confirmed to The Daily Star by his son Mashuque Alamgir Rajeeb.
He had been suffering from Covid-19 infection and was admitted to the hospital on July 15 after his condition rapidly deteriorated.
He also suffered a heart attack while under ventilation around 10:00pm last night.
Soon after the demise of the Ekushey Padak-winning singer, President M Abul Hamid and Prime Minister Sheikh Hasina expressed shock and conveyed their sympathies to the bereaved family.
In a condolence message, President Abul Hamid said the void that has been created in the country's music arena due to the death of Fakir Alamgir will never be filled.
His songs have played an important role in the revival of patriotism and the development of the consciousness of the Liberation War among the younger generation, stated the message.
The president also prayed for the salvation of his departed soul.
Prime Minister Sheikh Hasina said the singer will be remembered for his great role in popularising Gono Sangeet among the masses.
Praying for the salvation of his departed soul, the premier also expressed her sympathy to the bereaved family.
Fakir Alamgir was one of the leading exponents of Gono Sangeet -- the songs of the masses -- in the country. Synonymous with voicing the rights of the voiceless, he was one of the most beloved artistes of his generation.
Born in Faridpur, Fakir Alamgir started his music career in 1966. During his student life, he was active in politics, while also writing Gono Sangeet to instil a sense of justice among the masses. He was a student of Mass Communication and Journalism in Dhaka University.
He played an important role as a member of Kranti Shilpi Gosthi and Gono Shilpi Gosthi during the mass upsurge in 1969. The legendary singer worked with Swadhin Bangla Betar Kendra during the Liberation War.
After the announcement of victory on December 16, 1971, the singer sang "Bijoy Nishan Urchey Oi" with his fellow artistes, weeping tears of joy.
Post-war, Fakir Alamgir created an amalgamation of earthy tunes and western influences to make unique creations that reached out to the masses.
Alamgir played a pivotal role in influencing the sound of modern Bangladeshi music alongside Ferdous Wahid, Azam Khan, Pilu Momtaz and others by combining indigenous tunes with western music.
Throughout his illustrious career, he sang songs like "O Sokhina Gesos Kina", "Shantahar", "Nelson Mandela", "Naam Tar Chhilo John Henry", "Banglar Comrade Bondhu", among countless other hits, which resonated in the hearts of all listeners.
"O Sokina Gesos Kina" is considered his seminal work, being on the lips of every other Bangladeshi after it aired on BTV's Anandamela in 1982.
In 1976, he founded "Wrishiz Shilpi Gosthi", an organisation that has served this country's music scene for over four decades. He has also served as the president of Gono Sangeet Shamanya Parishad (GSSP).
Also an avid writer, Fakir Alamgir published his first book "Chena Chena" in 1984.
"Muktijuddher Smriti Bijoyer Gaan" and "Gono Sangeeter Otit O Bortoman" are some of his notable books. "Amar Kotha", "Jara Achhen Hridoy Potey" and "Smriti Alaponey Muktijuddho" were also very popular.
Fakir Alamgir's name will forever be synonymous with Bangladesh's Gono Sangeet, one which people belonging to all walks of life could take pride in.
"We were all ready to give our lives for freedom, we were that determined for revolution," Fakir Alamgir had said in his last interview with The Daily Star.
Even though he is no more, he has left behind his legacy in the very existence of Bangladesh, alongside courageous freedom fighters with whom he selflessly served the country.
The Daily Star extends its condolences to the legendary singer's family.