International Sufi Festival in the offing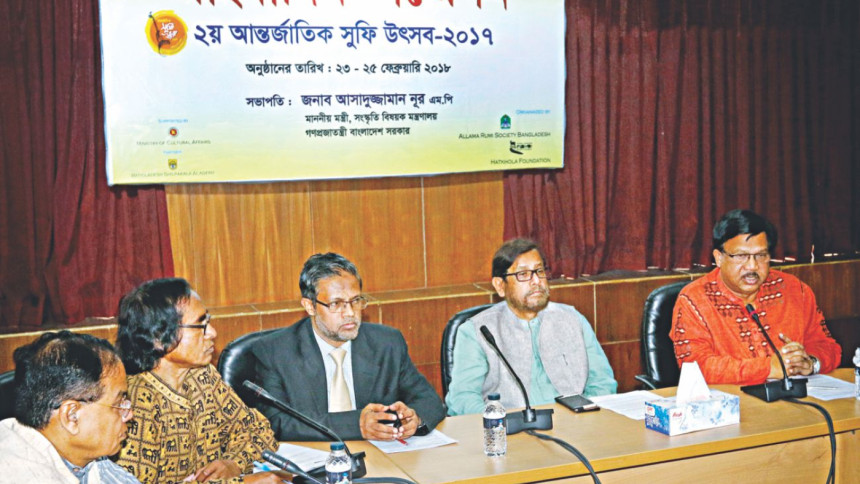 The second International Sufi Festival 2017 is to commence soon. Organised by Allama Rumi Society of Bangladesh and Hatkhola Foundation in association with the Ministry of Cultural Affairs and Bangladesh Shilpakala Academy (BSA), the festival will kick off at Nandan Mancha, BSA.
The three day (February 23-25) festival, themed on "Music for Unity", will start at 3:30pm on February 23 through a presentation of Bangladeshi folk dance. Noted and promising Sufi and folk singers from Bangladesh, India, Turkey and Iran will perform at the festival.      
In this regard a press conference was held yesterday at the seminar room of BSA where Cultural Affairs Minister Asaduzzaman Noor, BSA Director General Liaquat Ali Lucky, former secretary and NBR Chairman Dr. Md. Abdul Mazid, also the treasurer of Allama Rumi Society of Bangladesh, and member-secretary of the festival organising council Yusuf Muhammad spoke.
Bangladeshi artistes --Pervez, Samir Qaawal, Sahriar Rafat, SI Tutul, Shafi Mondal and Maizbhandari Moromi Goshthi together with a Delhi (India) based troupe Sufi Bawra will perform music on the opening day.   
A seminar on Sufism will take place at 3pm on the second day (February 24) while Bangladeshi singers --Pulak, Shirin and Razzaq, Kiran Chandra Roy and Chandana Majumdar and Tuntun Baul and Hanif Baul will perform on the day. A 22-member troupe from Turkey will also perform.
 The featured singers for the concluding day on February 25 include Hyder and Haroon, Iqbal Hyder, Siraj Baul and Joler Gaan from Bangladesh; Roohani Sisters (India) and an Iranian troupe. The festival is open for all.      
Sufism is a spiritual path that has served humanity for many centuries in the East and Middle East. It is also a living tradition, taking new forms even in the West, but remaining true to its essence.