BAMBA announces Live Chapter One concert
Top bands to perform at ICCB next month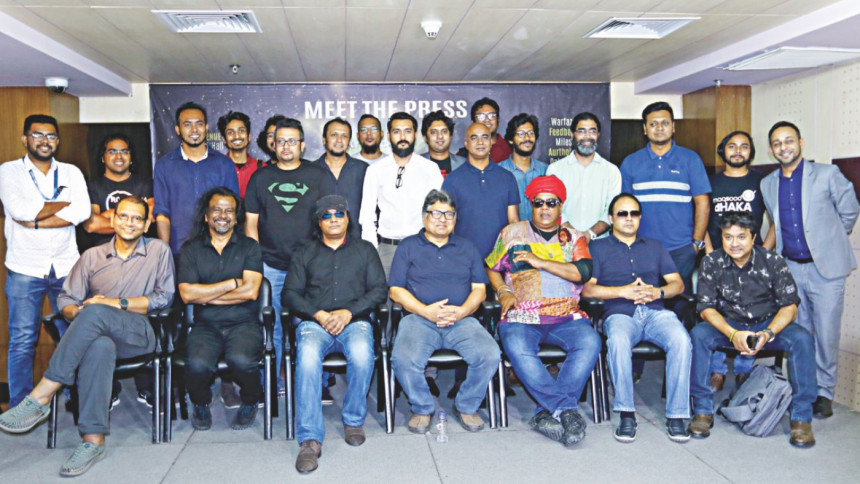 After a long interval, Bangladesh Musical Bands Association (BAMBA) is going to arrange a concert with its member bands. Eleven out of 27 member bands of the organisation will perform in the Live Chapter One concert on May 3, at the International Convention Center Bashundhara.
Bands to perform in the concert are Miles, Warfaze, Feedback, Authohin, Dalchhut, Maqsood O Dhaka, Pentagon, Nemesis, Arbovirus, Vikings and Shunno, informed Doza Elan, the Chief Executive Officer of Sky Tracker, the event management organization that is organizing the concert.
"The concert is free of charge, but requires a registration online," Doza Elan added. "As this is going to be Chapter One, there will definitely be chapter two, three and so on, accommodating all the member bands of the association," he further added.
BAMBA President Hamin Ahmed, General Secretary Sheikh Monirul Islam Tipu and Vice President Foad Nasser Babu were among those present in the press conference that took place yesterday at the Tawfiq Aziz Auditorium of The Daily Star Centre in Dhaka.
Hamin Ahmed said, "BAMBA is not only there to arrange concerts, rather we are working on crucial issues like copyright concern, natural disaster rehabilitation, and social development as a whole."
"Band music is the most popular event after cricket to the young generation in Bangladesh, and we are working to further promote that" he added.
Hamin further said, "Starting with the first ever open-air concert in Bangladesh in early 90s, BAMBA successfully took Bangladeshi band music to a level where band music is being performed in commercial basis today. Our bands are regularly going to foreign tours indicating a visible success of band music here".
BAMBA's Founder President Maqsoodul Haq said, "In Bangladesh, band music started as a luxury decades back, and it is no more in that stage. Now, band music is a career for many, which has been possible to a great extent for the existence of BAMBA".
"Through the activities of BAMBA we are trying to empower band musicians of the country," Maqsood added.
BAMBA General Secretary Sheikh Monirul Islam Tipu informed, "This is a new beginning for BAMBA after a long gap. Since it is a one-day event, we could not accommodate all the members and naturally all the members will perform in next chapters."