In loving memory of Qayyum Chowdhury
First death anniversary of pioneering artist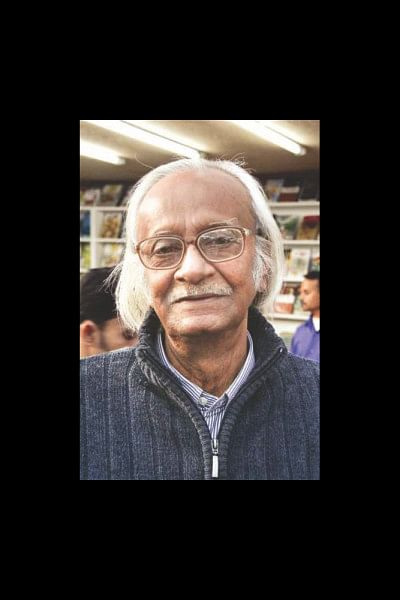 In his simple trademark kurta pyjama, Qayyum Chowdhury was as imposing as a Roman emperor in a toga and laurels. In the '50s, veering away from folk art and moving away from realism, Qayyum entered a phase of semi-abstraction. This gave him subject for work and from it he developed his unique style. He used folk art for stylistic reasons. He borrowed from the lives of the common man. His figures were flat but supple. His bright colours had a mass appeal. He took images in their geometrical shapes and arranged them in a modern way.
On this day just a year ago, the stalwart passed away on the stage of the world's biggest classical music festival (an art form he held close to heart), with an unfinished sentence hanging from his mouth. This year's edition of the Bengal Classical Music Festival is fittingly dedicated to his memory. 
Qayyum reworked forms in a poetic way. The decorated designs of country boats filled his work. He kept his main object in the centre. He left the space around his subject with minute forms. Thus his central figures stood out because of the play of chiaroscuro. His work was always rhythmic, neat and clean. In his "Bathing Women" (2002) and "Village Autumn" (2002), the women in hues of red, blue and beige merge with nature, the rivers, trees and fields.
Even his black and white drawings for magazines, newspapers and books had and beauty of their own--like the sketches of Pablo Picasso or Rabindranath Tagore. As a successor of Zainul Abedin and Qamarul Hassan, he roamed freely through the many realms of art. Through his brush and pen he depicted the common man of Bengal--the farmers and fishermen. 
In the '60s, his drawing captured the Bengali people's struggle for survival. He sought to draw near the land and seek its roots. The series of watercolours depict the Language Movement and Liberation War of 1971 eloquently and in different mediums. Behind his work was the driving force of his spirit. He was moved by the helplessness of the victims of the tragedies. He honoured the victims through his treatment of his work. His "Boat" - pen and ink (2001), "Setting Sun" - pen and ink (2001_, "Secret Talk" (2004), "Worried" - acrylic (2004) depicted his women subjects in green and blue simple lines bringing in the beauty of the minutest leaves and ferns that formed the backdrops of his works.
In his famous drawing of a woman holding a yellow bird, dressed in a simple blue sari, with a brown border and a green blouse, she is seen surrounded by all the wealth of Bangladesh's nature. His faces, rivers and landscapes remain etched in our hearts. The red  swirling sun, bits of leaves, ferns and buds of red flowers; blue fish swimming in the river with blue waves and red seaweed, a rotating beige, red and pale green disc depicting the sun are found in the peaceful and restful picture. A yellow bird in flight and squiggles of blue clumps of trees complete the image.