The appeal of alpana is universal... Monirul Islam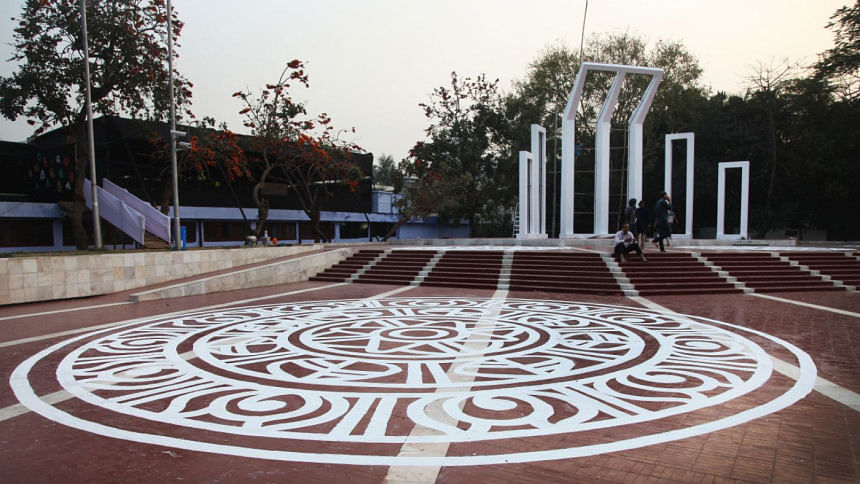 Alpana is a popular folk art form. The word alpana is derived from the Sanskrit "alimpana", which means 'to plaster' or 'to coat with'. The colour of alpana has an intimate relation with Amar Ekushey. In a recent conversation with The Daily Star, eminent artist Monirul Islam spoke about alpana and its long-standing connection with paintings worldwide. Excerpts:
"The art of alpana is known by different names in various parts of India and its use varies from region to region. The most common type all around India is Rangoli, which uses colored sand to draw a design. The artwork is mainly done by women. It was firstly done in Bengal. They are conscious of the changing moods of the seasons and their creativity thus marks the changing cycle of the year.
"Traditionally in Bengal, alpana is strictly white since the liquid paste used for alpana is rice powder mixed in water. Nowadays, there is a change in use of materials. Some fabric colours are used along with glue to give long life to the alpana. Although alpana is generally white, some green and red forms are also drawn.
"The design of alpana is symmetrical, repetitive and full of forms. In Spain's Andalusia, Muslims have contributed much to the tile-paintings which is quite similar to alpana. Alhambra is home to an exclusive collection of Spanish encaustic floor tiles and wall tiles. It incorporates psychedelic designs. Bengal's alpana has also psychedelic designs too. Many western painters were motivated with the beauty of alpana and completed enormous paintings themed on it. The appeal of alpana is universal.     
"Artisans who don't have any artistic training are instinctively doing alpana generation after generation. The indigenous people have their own forms of alpana. The santal people decorate their home yard and wall with alpana. They generally use rice powder and lime to do so. Alpana was started in undivided Bengal in both Muslim and Hindu houses. They would depict traditional elements like birds, fishes, leaves and floral motifs of our culture. The traditional forms of alpana are following evolution. Alpana signifies a very rich folk art legacy.
"The use of alpana is a common trend in our culture. It is widely used in any national occasion or festivals such as International Mother Language Day (February 21), Independence Day (March 26), Pahela Baishakh (April 14) and Victory Day (December 16). The forms and styles that are in vogue now to depict alpana will go through changes after 50 years, but it's safe to say the legacy will remain."