Restoration of cultural heritage with art
Tasmina Khan Majles, a visual artist based in Melbourne, recently showcased her work in a solo exhibition titled Remnants of the Past.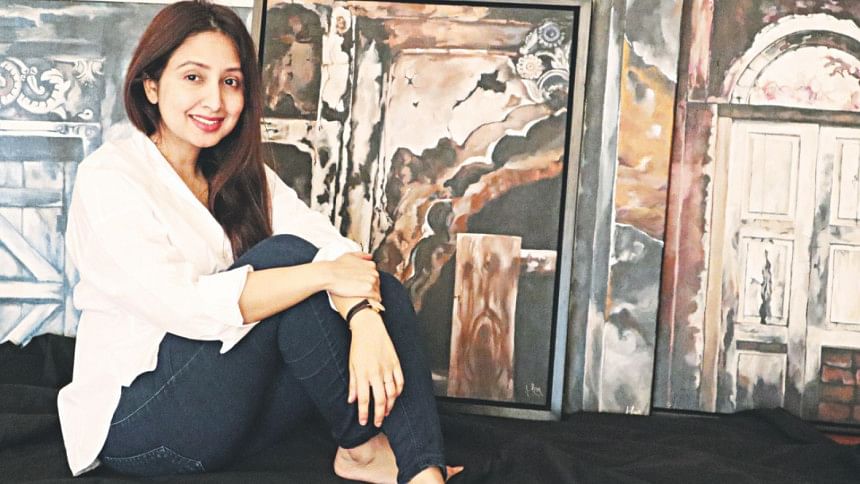 Tasmina Khan Majles, a visual artist based in Melbourne, recently showcased her work in a solo exhibition titled Remnants of the Past. The exhibition, displaying relics from 13th century Mughal and Colonial-inspired architectures of Bangladesh, took place in Whitehorse City Council, Australia. In an interview with The Daily Star, the artist talks about her projects and more. 
Tell us about 'Remnants of the Past'. How long have you been researching on this particular subject? 
In 2014, I moved to Dhaka for two years. During that period of time, I was surprised to see how old heritage buildings were being replaced by more modern structures. What disturbed me was the fact that the buildings were not documented properly, due to the lack of resources and government initiative. This led me to contemplate more on the subject. Coincidentally, my friend and photographer, Usayed K Mahmood, currently based in USA, was in town, and we shared our views. Hence, this project is a collaboration with him.
I also did my own research by visiting the sites old Dhaka and Panam City, Sonargoan. I realised most heritage buildings were ruined because of structural failure, rising damp, biological insect damage and some man-made destruction. Overwhelmed by the situation, I started to paint and document, as I thought this was a great way to confront the situation.
Is there any special piece from the exhibition that you want to highlight? 
Every artwork is a piece of history. I have tried to represent the present condition of the structures as truthfully as possible. However, the pieces Eulogy - on illustrious façade, showcasing the abandoned ornamental relics from past, and Bequest - woven in cast iron, where a padlock is used as a metaphor to the constrained mindset of the society, are worth highlighting.
What medium do you work with?
I mostly work with charcoal, oil pastel and acrylic on canvas. I resort to a lot of realism, and my recent work was done with acrylic on canvas.
What are the inspirations behind your artworks?
My paintings reflect my lifelong passion, which is fixated on restoration of cultural heritage and nature. I believe that both nature and heritage are important parts of human existence. One gives me a sense of belonging, and another reminds me of my roots.
Tell us about your future projects.
I have documented the locality of Farashganj near Buriganga River, in my recent visit to Dhaka. I wish to work more on this genre of painting in the future, and would like to document these important heritage sites in the form of art.