"It's time for me to learn to swim"
…Neelanjona Neela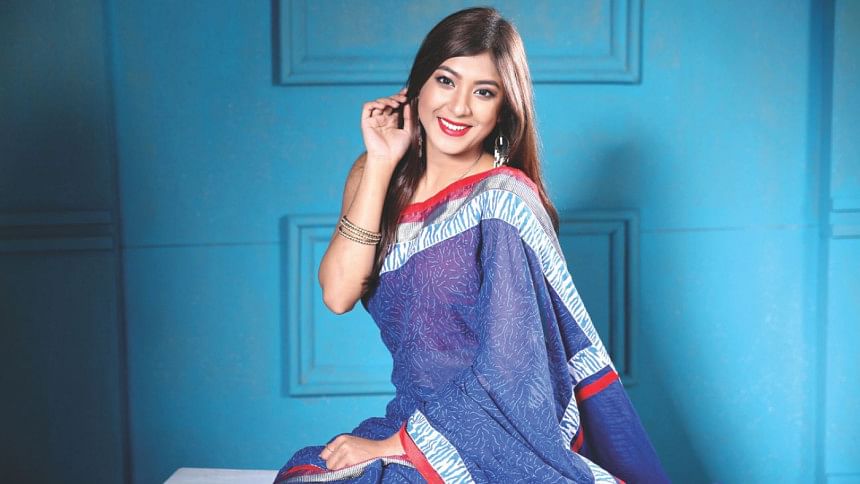 Badrul Anam Saud's debut film "Gohin Baluchor", slated to release in December, offers more than the promise of a compelling romance set against the pristine backdrop of sandy shores meeting crystalline rivers. The film involves a cast of newcomers making their first forays into the silver screen, including Neelanjona Neela who is also a relatively new face on the small screen. In a recent interview with The Daily Star, the actress shares her experiences on the set, and more.
How do you normally spend weekends?
Neela: I spend as much time as I can with my family, and catch up on my reading. We like going out, whether it be to the movies or otherwise.
What challenges did you have to overcome while filming "Gohin Baluchor"?
Neela: I entered into this film with an acting background in television, and it was a whole new dimension altogether. We had a three-month grooming period to prepare ourselves to the best of our abilities, but we aren't accustomed to spending extended periods of times outdoors. We spent a great deal of time in the sandy char areas, where we didn't have access to a washroom. I learned to cope on boats, and also to appreciate many different kinds of fish during my time on the sets.
Which three words best describe you?
Neela: Loyal, good, and emotional.
Is there a skill you would like to learn?
Neela: After spending a great deal of time being surrounded by water during the filming of "Gohin Baluchor", I think it's finally time for me to learn how to swim.
As an actress, who do you look up to as a role model?
Neela: Suborna Mustafa is my idol; I wanted to be like her while I was growing up. I love and greatly admire Bipasha Hayat and Jaya Ahsan as well.