'Shankhachil' is one of my best films -- Prosenjit Chatterjee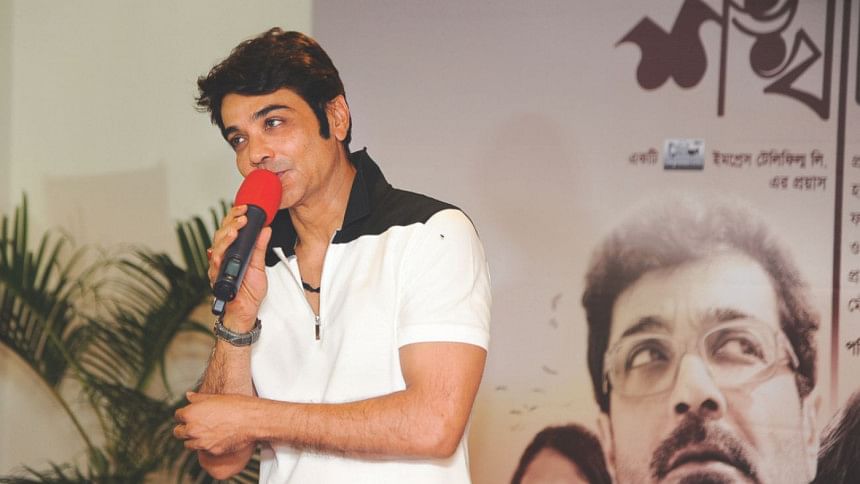 Tollywood superstar Prosenjit Chatterjee is in Dhaka for the premiere of his latest film "Shankhachil" which releases in Dhaka and Kolkata on April 14. Before the premiere at Star Cineplex in the capital, Prosenjit talked to journalists at a press conference. Excerpts:  
Shankhachil is releasing tomorrow. How do you feel about it?
Prosenjit: As an actor, I feel great that my film is releasing in two countries simultaneously. I am also proud that it has won National Film Award in India before its release. The entire team worked hard to make it a success. 
Is there any special memory associated with this film?
Prosenjit: Before I came here, we held a special screening of "Shankhachil" in Kolkata for the state governor. He is not a Bangalee, and before the screening he said that he would not watch it for more than 30 minutes. But he eventually finished the film, and it made me proud. 
You went to Satkhira for shooting. How did it feel to shoot a film at such a location? 
Prosenjit: It was a very good experience. I had plans that I would come to Dhaka first and then go to Satkhira. But Goutam insisted that we go to Satkhira first. I would head to the shooting spot around 4am, and people would stand on the sides of road to see me. I saw women standing on the road to catch a glimpse of me. I would stop and talk to them before going to the shooting spot. I will take this memory with me. 
What's your take on your role in the film?
Prosenjit: I played a teacher in the film. My character's name is Badol. My character allowed me space to show my acting prowess. 
What is storyline of the film?
Prosenjit: This is the story of a family, and the story of humanity. The Partition of 1947 takes a big space in it. 
What's your take on your Bangladeshi co-actors?
Prosenjit: I worked with Kushum, Mamunur Rashid and other actors. When I first met Kushum, I told her that I would call her 'tui' instead of 'tumi'. I worked with Mamunur Rashid and Deepankar De. They are very good actors, and I spent a lot of time with them on the set.  
How significant is the role of "Shankhachil" in your acting career?
Prosenjit: If I count 10 films as the greatest films in my career, I would say "Shankhachil" is one of them. Badol is one of the best characters I ever played in my career.
How did you prepare yourself for the role?
Prosenjit: Hard work. After "Moner Manush", I worked with Goutam Ghose after five years. I always wanted to work with him. And I waited for five years for a good film like "Shankhachil".