'Call My Agent: Bollywood' combines the glitter of showbiz with apt emotions
Set in a bustling Mumbai-based talent agency – ART – that represents some of the best-known faces of Indian film and TV, "Call My Agent: Bollywood", directed by Shaad Ali and produced by Applause Entertainment, is out on Netflix for viewers. It is a remake of the hit French series, "Dix Pour Cent".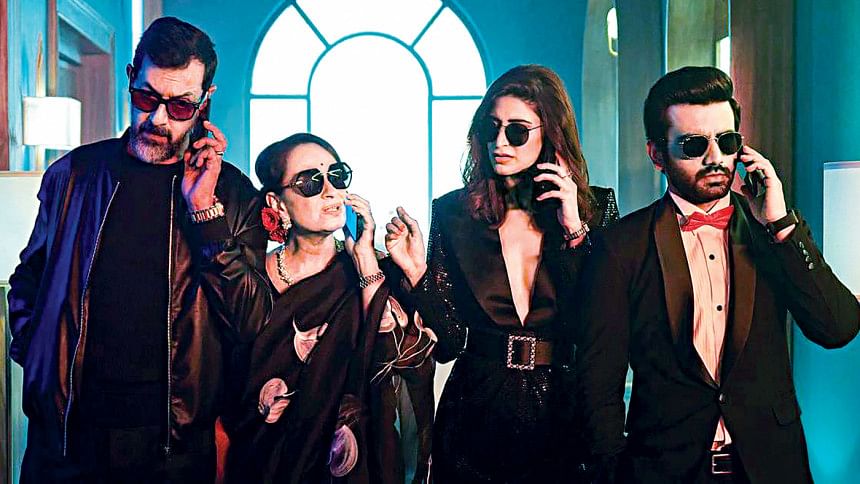 Featuring a talented bunch, namely Rajat Kapoor (Monty) Aahana Kumra (Amal) Ayush Mehra (Mehershaad) and Soni Razdan (Treasa), the remake has plenty of Indian celebrities playing fictionalised versions of themselves. But at the heart of it are the overworked, dedicated agents themselves who are constantly putting out multiple fires in their personal and professional lives.
We get a delicious, light comedy that examines the lives of agents, the 'star makers', who double up as fixers, babysitters, and shrinks for their clients. With each episode, the series unravels several showbiz issues, throwing light on problems such as acute age-shaming of actresses, ego wars between stars, family disparities in affecting professionalism, struggles of working mothers, as well as on-again-off-again relations between co-actors.
The star cameos lend a certain whimsy and absurdity to the show—and some riotously humorous moments. Be it Lara Dutta, Nandita Das, Lillete Dubey, Ila Arun, Sarika and Akshara Hasaan, Ali Fazal, Richa Chadha or Jackie Shroff, all are quite over-the-top, yet entertaining in their performances. Meanwhile, Dia Mirza and Tigmanshu Dhulia's cameos are the ones that are somewhat natural and realistic.
Among the main cast, Rajat Kapoor stands out with his nuanced portrayal of the hardcore professional Monty.
The cinematography and production design are beautiful. The essence of the world of celebrity agents is captured very well, especially for those who are not familiar with it. The camera movements keep the viewers consistently engaged.
The makers have done an admirable job in showing the personal connection between the agents and the artistes. The agents are practically with their clients throughout the day, from the time they wake up, to the interviews and the shoots, telling them what to say and what not to. The support system comes across very well.
 However, while it is understandable that the glamorous aspects had to be shown because it is a series about the world of cinema, the agents being so decked up often comes across as unrealistic, as most of the time, they are just rushing and hustling. Not to forget, in most scenes, it feels as though the makers have incorporated some mature language just because they consider it to be "necessary" for a web show.
That being said, the series makes a praiseworthy effort to tap into challenging topics like infidelity, facial reconstruction, and diversity.
All in all, "Call My Agent: Bollywood" is a refreshingly fun show that makes one wonder, are agents really the only best friends celebrities have?