"Haldaa" out in theatres today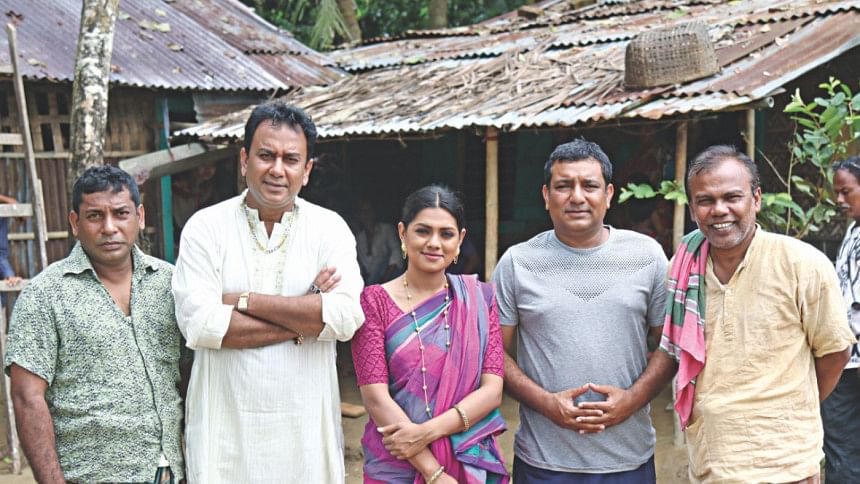 After building up heavy anticipation over the past year, Tauquir Ahmed-helmed "Haldaa" will finally break free from post production dams today to reach nearly a hundred theatres across the country. The movie tested the audience waters earlier this month with the release of two songs and a visually captivating trailer, as well as another song titled "Premer Agun" two days ago - all of which have been positively received.
"It gives me great joy to know that 'Haldaa' will reach so many halls, but what I'm really looking forward to is the audience response," stated the director. About the team's preparation around its release, Tauquir added: "There's no end to publicity campaigns - from print to television media, we have received overwhelming support. There's more planned for the times ahead."
"Haldaa" sports a strong cast, including Zahid Hasan who will make his return to the big screen after several years. In a narrative where the life and struggles of a woman is intertwined with the meandering river, Hasan portrays the role of a formidable, influential figure in the small fishing village.
"We spent a considerable amount of time filming on the Haldaa river banks," Hasan elaborated. "We endured scorching heat and other elements, but all that we put ourselves through, is for the ultimate appreciation and enjoyment of the audience. The film is finally here, and I look forward to a great turnout in theatres."
Among the central roles is Fazlur Rahman Babu's character, a poor, ill-fated fisherman who faces many obstacles throughout the film. "Tauquir Ahmed is an extremely talented director. His film, 'Oggatonama' won accolades all over the world, even if it didn't reach a wide audience here. However, 'Haldaa' is a film made with the same acumen, and this time it welcomes the entire country for those who wish to see it," he said.
The female lead is portrayed by Tisha, who plays the poor fisherman's daughter, Hashi. Her love for the river Haldaa runs deep and the tides turn on her when she suddenly finds herself trapped in a marriage with a rich man from the locality, and finds love in another. "I had to learn the Chittagong dialect for the film, which proved to be very challenging," stated Tisha. "The film has multiple layers. A tale of romance and heartbreak is set against the wider struggles of a fishing community. I know viewers will find the film enthralling."
Caught in this tale of romance and doom is Mosharraf Karim's character, who works as a servant in a wealthy family's home. "My character is a tragic hero who is never destined to be joined by the woman he loves," he said, "I am proud of all the work we have put in, and eagerly anticipate its release today."