Captain America: Civil War dominates Star Cineplex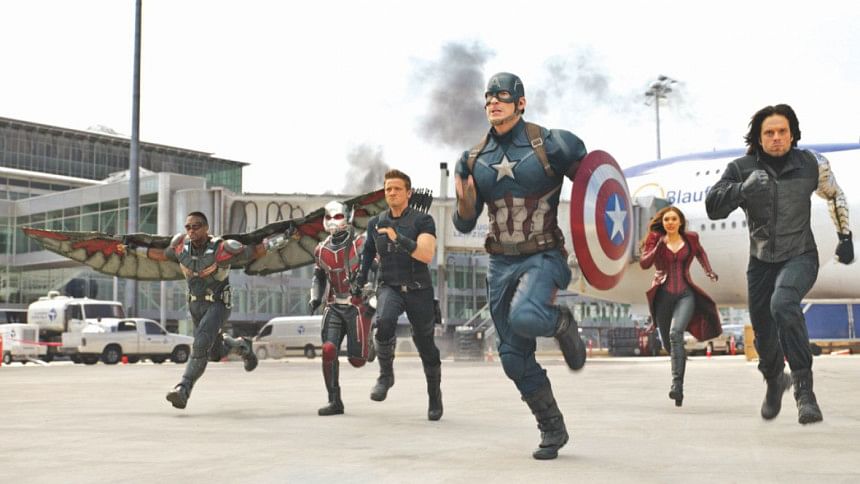 One of the most anticipated superhero movies of 2016, "Captain Amercia: Civil War" is successfully running in Dhaka. The film opened at Star Cineplex Cinema Halls at Bashundhara City on May 5, the date of its international release, with a special red carpet premiere. 
As the trailer of the film had suggested, Civil War is living up to the expectation of superhero fans and producers alike. The third installment in the Captain America series is eyeing an absolute tremendous 180 dollar million weekend in the US from current projections, to be one of the highest grossing Marvel films.
Directed by Anthony Russo and Joe Russo, the movie has brought in new heroes T'Challa/Black Panther and Peter Parker/Spider-Man. And surprisingly it doesn't affect the pacing; not even when the new faces mix with old faces like Black Widow, Hawkeye, Falcon, War Machine and the relatively newish Scarlet Witch, Vision and Ant-Man.
The movie reprises most of the Avengers casting: Chris Evans, Robert Downey Jr., Scarlett Johansson, Sebastian Stan, Anthony Mackie, Don Cheadle, Jeremy Renner and Elizabeth Olsen, while Mark Ruffalo's Hulk and Chris Hemsworth's Thor are missing. 
Despite being a Captain America movie, Civil War is more about the struggle between consent and dissent, and how unlikely it is for a group of superheroes to remain united. 
Grameenphone Star Programme has teamed up with Cineplex to offer its Star subscribers one free ticket with the purchase of another for the first week.  
Watch the trailer: