EMK Center's virtual duet exhibition 'Mirror of Society' underway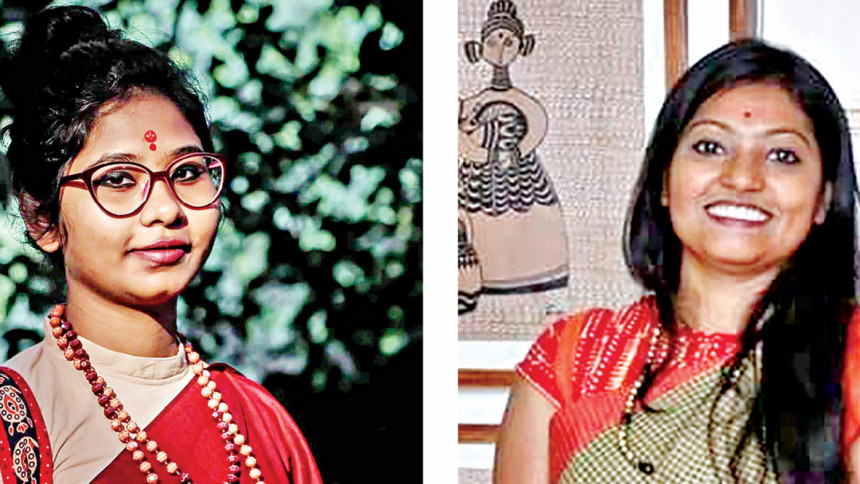 EMK Center's virtual duet exhibition, "Mirror of Society" features works of young artists Shaily Shrabonti and Sheikh Farhana Parvin Tumpa. The 60 artworks on display at the exhibition highlight different aspects of society.
Shaily's artworks are part of a series, entitled "Ei Shohorer Hawabibi". Being a student of Oriental Art, she mainly used watercolour wash technique, along with acrylic paints, pens, and local mats. She is currently a master's student of the Faculty of Fine Art, Department of Oriental Art, University of Dhaka, and has been working with these ideas since 2018.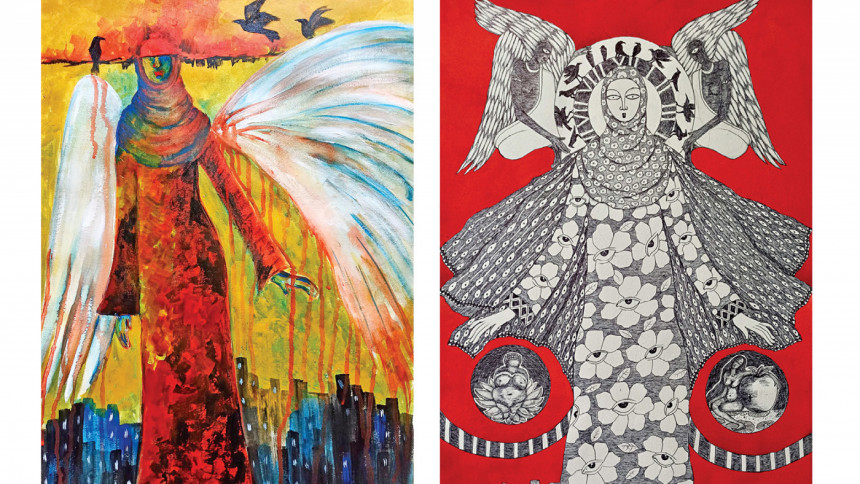 Her series depicts the various social obstacles faced by women. "With the rise of an agrarian society emerged the idea of private ownership. Since then, strategies have been used to detain women. Over time, patriarchal practices evolved into a social structure that obstructs women's liberation," she asserted.
Shaily believes that there is a patriarchal consciousness behind the limitations imposed on women. She has used the story of the mythological primordial mother, Hawabibi, in order to highlight such patriarchal practices restraining women of today.
"I have denoted Hawabibi as a woman behind the veil. All women are part of the primitive Hawabibi, and they are still captive to the restrictions that were imposed on her," she explained. In the future, Shaily wishes to continue working for social changes.
Farhana has completed her bachelor's and master's from the Department of Printmaking, Faculty of Fine Art, University of Dhaka. She is currently working as a teacher and freelance artist. Her artworks depict her love towards Bangladesh's rich culture and heritage.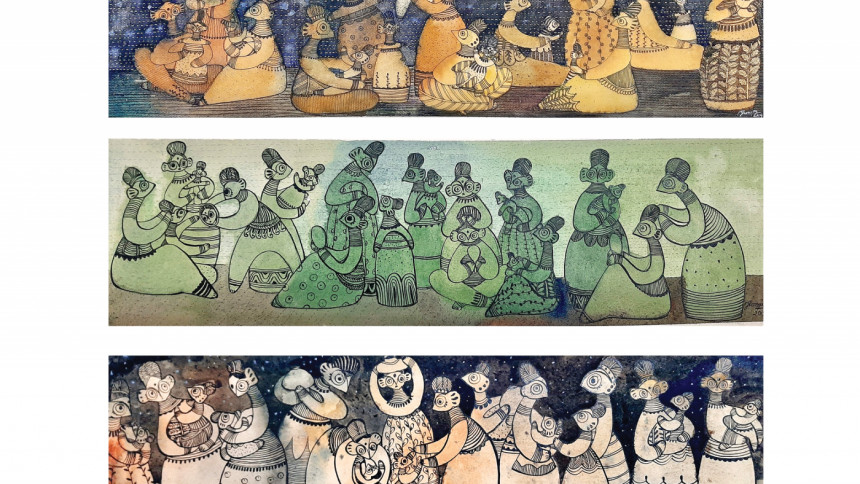 She has used simple watercolour, acrylic, and ink drawings to present Bangladeshi village life, family relationships, and social activities. "My work's main character is our terracotta sculpture, 'Tepa', through whom I have represented our country's folk art. I have tried to enhance the ancient culture of Bengal through my work," she said.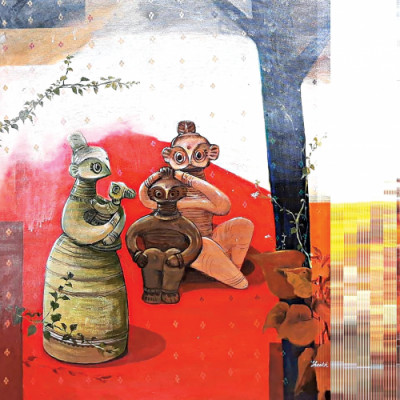 Farhana started her work with this artform in 2014. "Through these artworks, I relive my carefree childhood days, as I have always been fascinated with dolls," she stated, emphasising on the use of traditional motifs in art. Her works are mainly based on mother-child relationships.
Farhana's artworks in the exhibition are relevant to the pandemic as they depict families spending quality time at home. In a broader sense, she has attempted to incorporate a true mirror of society, in terms of the current circumstances.  "In the future, I wish to continue my work with this form and incorporate my art into clothing," she concluded.
The virtual exhibition is available for visitors on EMK Center's website till July 31, 2021.
The author is a freelance journalist. Write to her at mislammonamee@gmail.com.