Weeklong programme at Liberation War Museum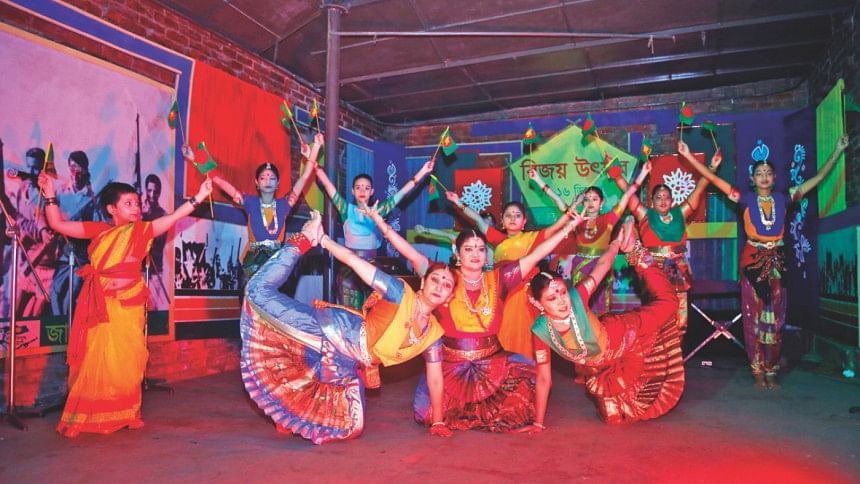 In line with the previous years, this year Liberation War Museum has arranged weeklong programme to commemorate Victory Day. 
The programme, titled "From Human Rights Day to Victory Day", began Thursday (December 10) evening at the museum premises in the capital's Segunbagicha. 
Dr. Sarwar Ali, Trustee of the museum gave welcome speech at the inauguration ceremony. Dr. Muhammad Rafiqul Islam, Professor of Law at Macquarie University, Australia gave the inaugural speech — Importance of the National Trials of International Crimes in Bangladesh: A Legal Response to Critics — at the ceremony.    
The cultural part began with a number of group recitations by the members of Swarochitra Abritty Charcha O Bikash Kendra, which were followed by presentation of dance pieces by Dhrupad Kalakendra. Directed by Shubhra Sarker, the dance troupe performed a number of pieces in sync with "Rumjhum Ke Bajay", "Manush Manusher Jonno", "Jonotar Sangram Cholbei", "Borisho Dhara Majhey Shantir" and few more hit songs. 
Later, students of Dhaka Commerce College and Maniknagar Model High School presented group dance. 
The programme — featuring music, dance, recitation and stage plays by Joler Gaan, Chhayanaut, Prachyanat, Bonhishikha, Rishij Shilpi Goshthi and more—will continue till December 16. 
In addition to Liberation War Museum premises, a three-day programme will also take place simultaneously at Mirpur Jolladkhana Boddhobhumi to mark the Martyr Intellectuals Day.