Star Cineplex celebrates 14 years of excellence
An air of splendour and festivity surrounded the corridors of Star Cineplex as the first ever state-of-the-art multiplex in Bangladesh prepared to celebrate its 14 years of serving the urban audience the best that cinema has to offer. Posters of Cineplex's most successful films throughout its journey were on display near the red carpet entrance, on which many celebrities from the film, television and music industries made their way to the anniversary. Abul Hayat, Afsana Mimi, Shakib Khan, Jaya Ahsan, Omar Sunny, Ferdous, Riaz and Purnima were only a few of the big names in a night full of stars.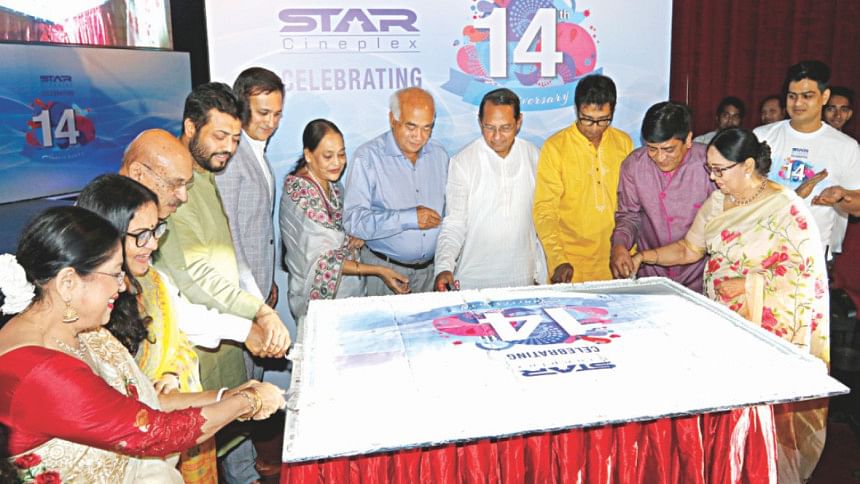 Minister of Information, Hasanul Haq Inu was the chief guest of the event. "I would like to congratulate Star Cineplex for reaching such a tremendous milestone," said the minister. "I firmly believe that more investments as such are needed in order to further rejuvenate the film industry like Cineplex did."
Mahboob Rahman, the chairman of Star Cineplex was visibly emotional during his inaugural speech. "When we started our journey, the film industry was almost dead," he said. "The challenge was to enhance the cinema-going experience and bring people back to the halls, and I believe that we achieved that." The chairman thanked everyone who supported the organisation over the years, and revealed that branches of Cineplex are in the works at Rifle's Square, Mohakhali and other places near the tri-state area, as well as in Cox's Bazaar.
A short clip commemorating Star Cineplex's 14-year journey was shown to the guests, after which the festive atmosphere was enhanced by a dance performance from Purnima, one of the most popular stars in the film industry. A lifetime achievement award was given to one of the legends of Bangladeshi cinema and television – Sharmili Ahmed.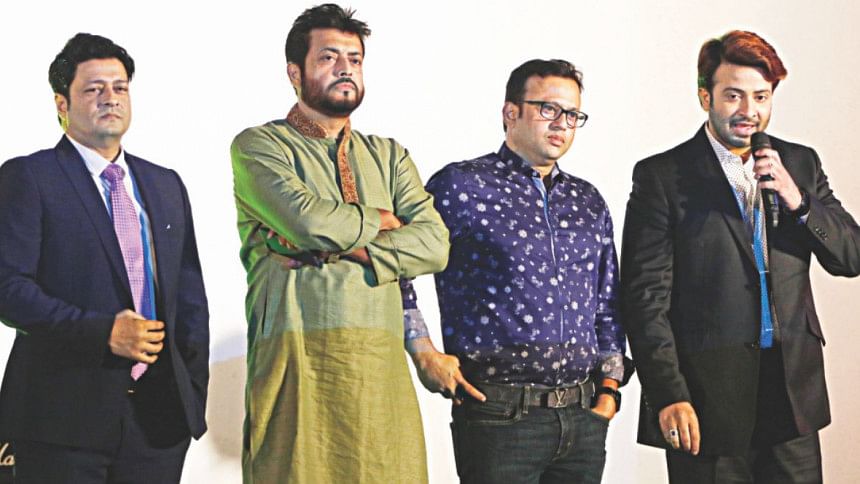 The veteran actor, adored as "mother" of the industry, thanked Star Cineplex and mentioned that she was elated to receive the award from veteran actor Farooque and the Minister of Information. Fourteen films were presented with crests for performing the best in their respective years – Molla Barir Bou, Daruchini Dip, Monpura, 3rd Person Singular Number, Guerilla, Chorabali, Projapoti, Zero Degree, Hridoyer Kotha, Chandragrohon, Shikari, Aynabaji, Bhuban Majhi and Dhaka Attack. Producers, directors and actors of the aforementioned films were present to receive the honours. Four juggernauts of the film industry- Shakib Khan, Ferdous, Riaz and Omar Sunny shared the stage and conveyed their best wishes to Star Cineplex.
The event closed off with a magnificent performance from Kona, with choreographed renditions of classics and originals. It mesmerised the crowd that left with an assurance made by the Cineplex authorities – this is only the beginning of what promises to be a revolution in Bangladeshi cinema hall culture.