Hamidur Rahman Puroshkar 2018 conferred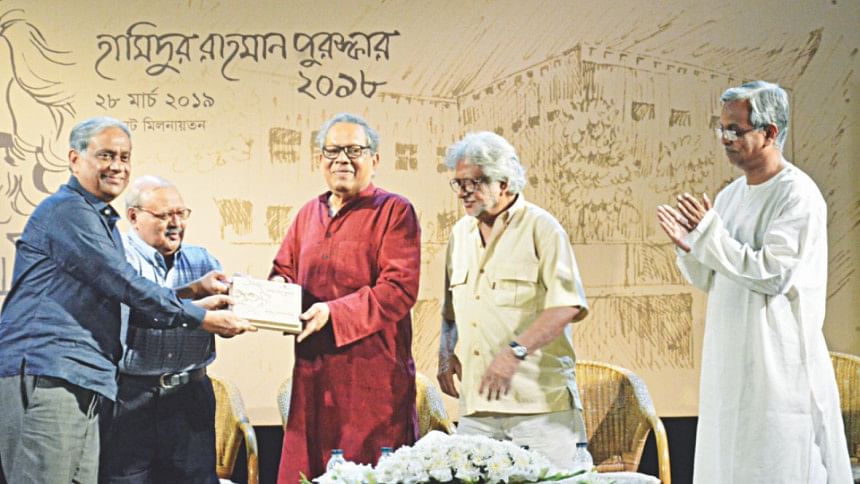 In remembrance of the eminent architect and artist Hamidur Rahman, who designed the Central Shaheed Minar, his family established the Hamidur Rahman Puroshkar in 2007. Organised by the Bengal Foundation, a ceremony took place recently at Chhayanaut's auditorium.
Renowned architect Bashirul Haq, was bestowed with the Hamidur Rahman Puroshkar 2018 at the event for his outstanding contribution to the field of architecture. Interestingly, he is also the engineer behind the structural design of Chhayanaut. Earlier, artists Monirul Islam (2007), Syed Jahangir (2011), Rafiqun Nabi (2013) and Murtaja Baseer (2015) were awarded with the Hamidur Rahman Puroshkar. "I am delighted to have received this award. Even more so, because it was presented to eminent painters earlier, and I am the first architect to receive it," Bashirul Haq mentioned.
Born in 1942, the Bangladeshi architect, planner and educator is considered as one of the most critically acclaimed contemporary architects of South Asia. His architectural prowess is celebrated for holding on to cultural roots, respecting local context, urban sustainability and the use of natural light and air. The buildings designed by him, are characterised by the extensive use of tactile materials such as handmade bricks, rough concrete and natural wood.
The programme was hosted by Luva Nahid Choudhury, Director General, Bengal Foundation. The guests who spoke at the occasion were architect Nahas Ahmed Khalil, Muhammad Kamaluddin, Abul Khair and artist Monirul Islam. A short video clip based on Bashirul Haq's work was also screened at the event.