MURTAJA BASEER TURNS 84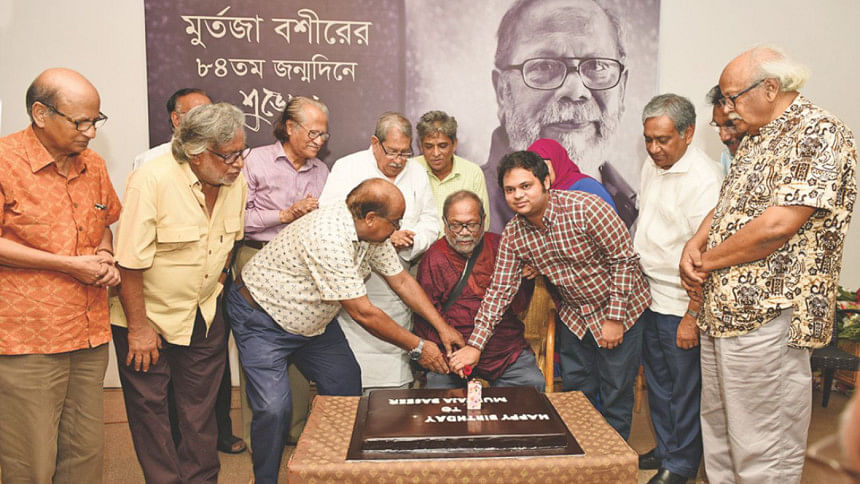 Murtaja Baseer, considered one of the foremost painters of Bangladesh, has established his individual style. He is also known as a resourceful genius. Throughout his illustrious career, Baseer has gradually transformed his working style into abstract realism.
August 17 marked the 84th birth anniversary of the painter. Artists, eminent personalities, poets and writer celebrated his birthday with a befitting manner on the day at Bengal Shilpalaya in Dhanmondi.
Baseer was born in 1932. He joined Dacca Art College (now the Faculty of Fine Arts, University of Dhaka) as a student in 1949. During the Liberation War, he left the country for Paris, and stayed there till June 1973. While in Paris, he studied mosaic and etching at Beaux Arts. On his return to to Bangladesh, Baseer joined Chittagong University as an assistant professor. He finally retired from teaching in 1998.
The painter is still actively exploring the diverse world of art. He has done a series of works articulating contemporary life and issues.
Many are perhaps not familiar with Baseer's other identities as a poet, short story writer, novelist, researcher, numismatist and filmmaker. Baseer has written novels and was acclaimed for his meticulous style and unique choice of themes. In 1954, he wrote a novel, titled "Ultramarine", based on contemporary life in Kolkata and social issue of the time. He published a collection of short stories called "Kanch-er Pakhir Gaan" in 1969. He wrote two more novels — "Mitar Shangey Char Shandha" and "Amitakkhar". He has a collection of selected works, "Murtaja Baseer: Murto O Bimurto".
Baseer has also worked as a screenplay writer, art director and chief assistant director for the Bangla film "Nadi O Nari" in 1964, and as an art director for the Urdu film "Kaise Kahoon" in 1965.
In 1987, he received a fellowship from British Council to carry out research on folk and traditional art of Bangladesh.