Monirul Islam honoured at Chandpur Press Club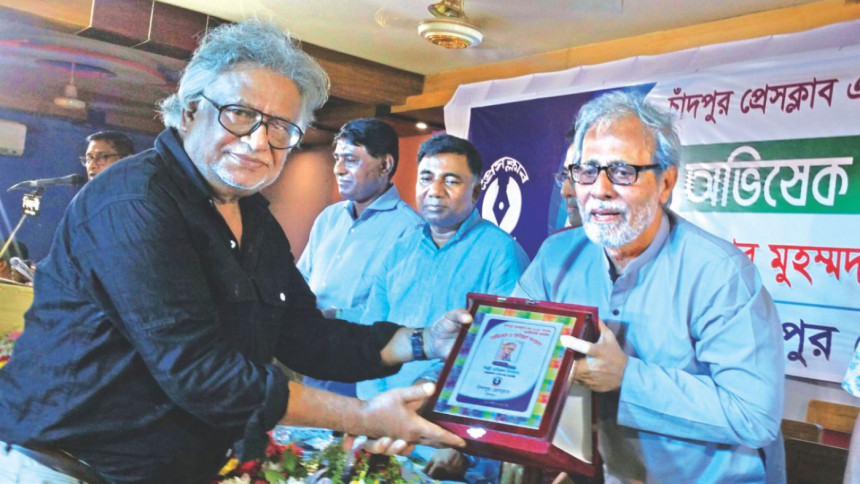 Internationally-renowned Bangladeshi artist Monirul Islam was honoured with "Gunijon Shongbordhona" at his hometown Chandpur on Saturday. Chandpur Press Club conferred him the ovation marking the initiation of the 2018 executive committee of the press club. At the event, the organisers also honoured Zainal Abedin Majumder, who was bestowed with CIP award twice for exporting leather goods to international market.
Gracing the occasion as chief guest, President of National Press Club Muhammad Shafiqur Rahman handed over crests to the honoured personalities.
Apart from the chief guest and the honoured personalities, dignitaries including director general of Power Cell Mohammad Hossain, Chandpur Zila Parishad Chairman Osman Gani Patwary, founding general secretary of Chandpur Press Club Professor Mohammad Hossain Khan, Additional deputy Commissioner (Revenue) Md. Masudur Rahman, Additional Superintendent of Police Md. Mizanur Rahman and others spoke at the event. President of Chandpur Press Club Iqbal Hossain Patwary presided over the programme.
Going down memory lane, Ekushey Padak winning artist Monirul Islam said, "When I was a young teacher at Dacca Art College (now Faculty of Fine Art, University of Dhaka), I came to my hometown, at the confluence of three mighty rivers -- Padma, Meghna and Dakatia, to accompany my art guru Shilpacharya Zainul Abedin at a four-day outdoor works on a boat. I also depicted many paintings on the banks of the rivers. Chandpur appeared to me as the floating city of Venice. But Chandpur no longer remains the idyll I used to know. Empty spaces have been engulfed by new buildings, structures and the expansion of the city has taken place over the years. Encroachers have taken over many ponds and parts of rivers, distorting beautiful landscapes, nature and environment."
A cultural programme followed where local artistes performed folk songs.