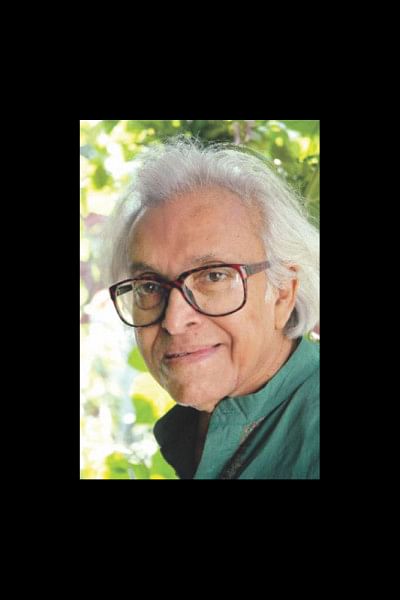 Shamsur Rahman does not need any introduction. The poet, who emerged in the latter half of the 20th century, wrote over 60 books of poetry and was regarded as the unofficial poet laureate of Bangladesh.
Today marks the ninth death anniversary of the wordsmith.
Born on October 23, 1929 in his grandfather's house in Dhaka, he went on to become one of the key figures of modern Bangla literature – as a poet, columnist and journalist.
After passing his matriculation in 1945, he took his IA as a student of Dhaka College, and soon after, started writing poetry at the age of 18. He studied English Literature at Dhaka University for three years. After a break, he received his BA in 1953. He also received his MA in the same subject.
Rahman's first book of poetry, "Prothom Gaan Dwitio Mrittyur Agey", was published in 1960. He witnessed the political turbulence of the 60's and 70's, which reflected in his poems clearly. He wrote his famous poem "Asad-er Shirt" as a tribute to the mass uprising of 1969. During the Liberation War he wrote a number of poems, which brilliantly articulated the aspiration of a nation fighting for its existence. Later these poems were published in "Bondi Shibir Thekey" (1972). He continued writing poems in the post-war Bangladesh and remained as the poet whose words reflected the history of the nation. During the 1990's 'Gano Abbhutthyan', he published "Buk Taar Bangladesh-er Hridoy" -- indicating the great sacrifice of Shaheed Nur Hossain.
Rahman published over 60 books of poetry. Major themes in his poetry and writings include humanism, relationships, romanticised rebellion of youth, the emergence of and consequent events in Bangladesh, and opposition to religious fundamentalism. He wrote most of his poems in free verse, often with the rhythm style known as 'poyaar' or 'akkharbritto'. He also wrote poems in two other major patterns of Bengali rhythmic style, namely, 'matrabritto' and 'swarobritto.'
Rahman also had a long career as a journalist, and served as the editor of Dainik Bangla and the weekly Bichitra in the 1980s.
His health deteriorated towards the end of 1990s and on two occasions he had major cardiac surgeries. Rahman passed away on this day in 2006 of heart and kidney failure, after having been in a coma for 12 days.

Compiled by Correspondent