Cultural programmes marking Independence Day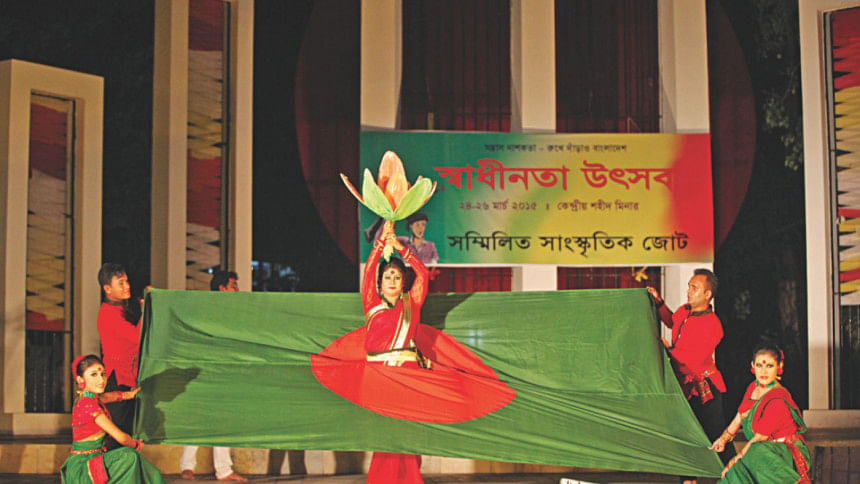 Marking Independence and National Day 2015, cultural institutions and organisations on the capital arranged celebration programmes. 
Bangladesh Shilpakala Academy (BSA)
A two-day (March 25-26) celebration programme was held at the Nandan Mancha. The event featured discussion, music, dance and recitation. 
Artistes of Boinhishikha set off the cultural event with "Bangla'r Hindu Bangla'r Bouddho" while Bhabna artistes danced to a patriotic song "Purbo Digonte Surjo Uthechhe", choreographed by Samina Hussain Prema. Rinku, Alam Dewan and Irin Pervin rendered two solo songs each. Artistes of Dhaka Sangskritik Dol presented choral songs while dancers of Sukanya Sangskritik Sangathan danced to folk and patriotic songs. Elocutionists Jayanta Chattopadhyay, Mahidul Islam and Jharna Sarkar recited poems at the event. Discussion with presentation of music, dance and recitation was followed on the concluding day.
Bangladesh National Museum (BNM)
BNM organised a musical programme at Shadhinata Museum premises where artistes of Shadhin Bangla Betar Kendra, Bonhishikha, Joyodhwani performed solo and choral songs. Recitation by noted elocutionists took place at Poet Nalinikanta Bhattashali Hall where cultural affairs minister Asaduzzaman Noor attended as chief guest. Noted elocutionists -- Syed Hasan Imam, Ramendu Majumdar, Ashraful Alam, Keya Chowdhury, Bhashwar Bandopadhyay, Pijush Bandopadhyay, Jayanta Chattopadhyay, Asaduzzaman Noor, Dr. Ranjit Kumar Biswas, Afroza Banu, Shomi Kaiser, Mahidul Islam and others recited poems on the occasion. In addition, four films were screened at BNM premises and Suhrawardy Udyan.
Bangla Academy
A discussion and cultural programme was held at Nazrul Mancha of the academy, with Ramendu Majumdar, Dr. Shamsul Bari and M. Hamid on the panel. Chairman of Bangla Academty Professor Emeritus Anisuzzaman presided over the programme. Later, singers Sazed Akbar, Abdul Halim Khan, Asgar Alim, Nasima Shaheen Fancy and Farhana Shirin rendered songs at the programme. 
 
Sammilito Sangskritik Jote
Sammilito Sangskritik Jote organised three-day (March 24-26) celebration programmes at two separate venues – Central Shaheed Minar and Rabindra Sarobar, Dhanmondi. The events featured solo and choral rendition of songs, group dances, recitations and staging of street plays every day. Both noted and promising singers, dancers, elocutionists and theatre troupes took part in the programme.
Chhayanaut
A film screening, along with a musical soiree, was held at its auditorium on Thursday. The film "Itihash Konna", directed by Shamim Akhtar, is based on women's participation and role in the Liberation War.