Visualising the present through Anup's art
Anup Roy is a contemporary artist, adept at painting modern-day objects in his own style. He has completed his Bachelor's in Painting at the Fine Arts Department of Chittagong University, and is currently doing his masters. In a recent conversation with The Daily Star, the artist talks about his ongoing venture as an artist, and more.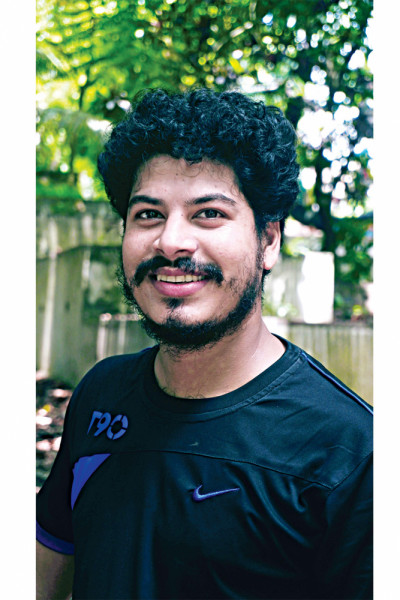 How does your work comment on current social and political issues?
An artist will never reveal his true intentions. Different artists grow up in different surroundings and this affects the art they create. I cannot put my art into definition. It all depends on the perspective of the onlooker.
However, I do see myself while painting. When I began exhibiting my works, I had to adapt to the city lifestyle, which was very different from my village.
Despite being busy in the strife of life, I found myself stuck. To compete with recent times, we all make plans of leading a better life, in a more advanced city. In the process of making these plans, we ground ourselves, which becomes very mechanical. I believe that many others are thinking in the same way. Therefore, mechanical living is the most important theme of my paintings.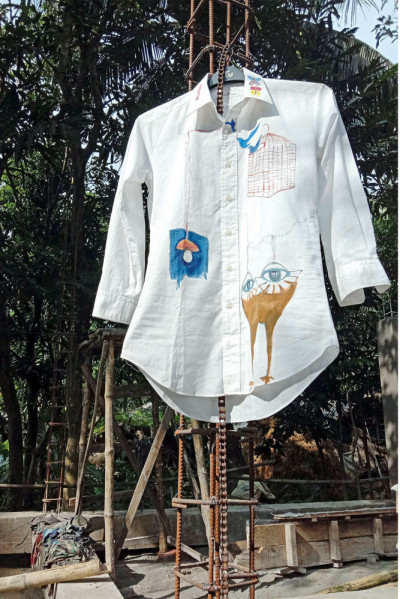 How did you develop your career as an artist?
I have always wanted to become an artist. When I was in standard two, I used to steal my uncle's paintings and try to recreate them.
This helped me discover that I was good at it, and kindled an interest towards art. My mother has always supported me as she wanted me to become a painter. My teacher from college named Binoy Sardar, used to motivate me by saying, "Do anything and everything but do not quit painting". I also receive a lot of help from my seniors and teachers in my university, and am still in the process of developing my career.
Can you tell us about your recent exhibition at EMK Centre?
We were a group of four artists who worked on line-based paintings and drawings. I created three pieces. The first was focused on themes of both mechanical life and admission of love or proposal. It had two forms- a woman and a man.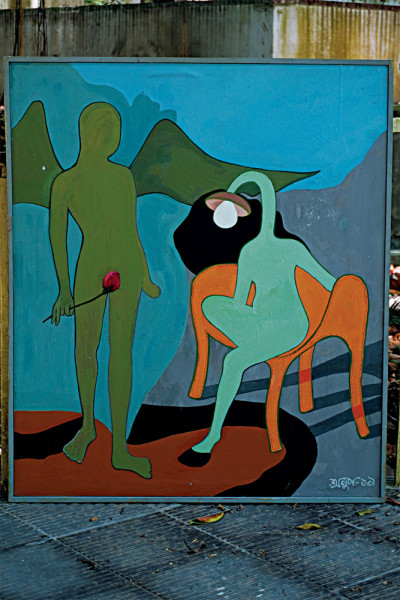 The second was about women's condition in mechanical living, and their fulfilled and unfulfilled desires during these bustling times. The third contained a man and a form of a man with a fox's head seated at a table, and a snake appearing in the backdrop, all wanting to get hold of Aladdin's lamp. 
How do you navigate the art world?
It is difficult to practice art in Bangladesh. Most of us feel lost after completing our studies, in thoughts about our career, the kind of life we want to lead and about our family. We are pressured to get employed so that we can support our family. This heavily impacts potential artists. Those employed in the corporate sector, do not even have the time to think about creating art, and thus become lost from its world.
Bangladesh also does not have a stable art market to help artists make a decent income. It becomes difficult when we cannot gather art materials, which requires a good amount of money. Very few artists have overcome their challenges whilst holding on to their passion, although their living standards may not be high.
Nevertheless, artists capture time through their art, which is subject to constant change. Hence, they must be positive about the time they spend, fulfill what is required and pace with it.
The author is a freelance journalist. Email: farahkabirg5@gmail.com