35 women, who say Bill Cosby raped them, sit together on NY Mag cover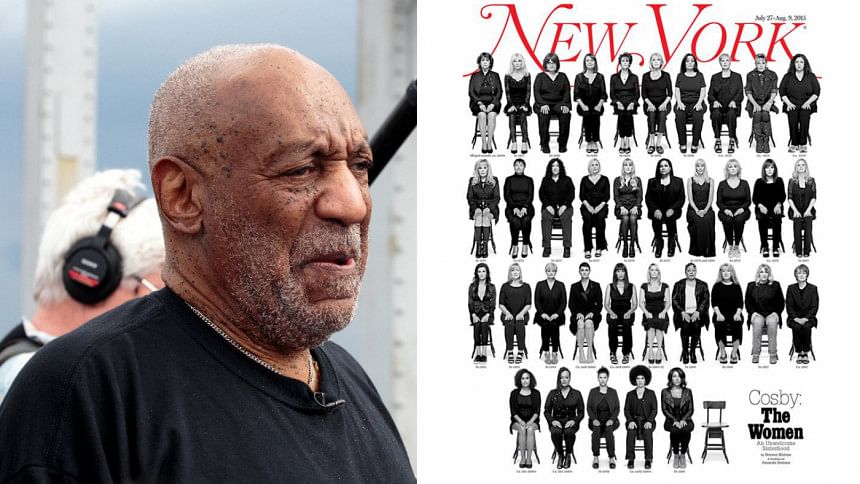 It is a show of solidarity and strength.
The New York Magazine photographed 35 women who say they have been raped or assaulted by Bill Cosby and placed them on its front cover, reports Mashable.
It is 35 women out of the 46 women that have come forward to publicly accuse the television star of sexual assault during the last five decades. It is believed there are more remaining silent.
"All 35 were interviewed separately, and yet their stories have remarkable similarities, in everything from their descriptions of the incidents to the way they felt in the aftermath," the magazine states. "Each story is awful in its own right. But the horror is multiplied by the sheer volume of seeing them together, reading them together, considering their shared experience."
Currently, Cosby has not been charged with any crime and has denied the accusations of rape and sexual assault by dozens of women. In a deposition from 2005-06, released recently by the New York Times, Cosby does acknowledge he gave women the strong sedative, Quaalude, "the same as a person would say have a drink" but claims all sexual relations were consensual.
These women tell a very different story.
The women, from 10 different states and diverse walks of life, share detailed accounts of Cosby using his power to entice them into his home, a hotel room or to dine with him and then offering them drugs and taking advantage of them sexually. In what the women describe as a "sorrowful sisterhood," they speak of their life-long anguish.
"The women have found solace in their number -- discovering that they hadn't been alone, that there were others out there who believed them implicitly, with whom they didn't need to be afraid of sharing the darkest details of their lives," NY Mag reads.