5 hurt as home returnees beaten up in Khagrachhari allegedly by cops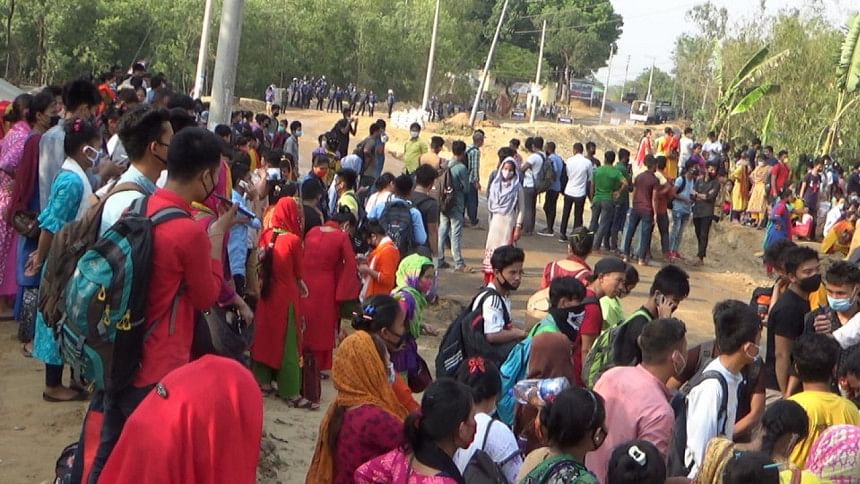 Five people sustained injuries today as police allegedly beat up some people who were trying to return to their homes in Khagrachhari after their workplaces in Chattogram shut down.
The victims include a 16-year-old.  
The injured were identified as: Sumita Dewan, 21; Shanti Priyo Chakma, 22; Shewli Chakma, 16; Rita Chakma, 19; and Rima Chakma, 19.
The incident took place in Manikchhari area of Khagrachhari this Thursday morning. The injured were taken to a local pharmacy for primary treatment after the incident.
"Around 1,000 people, including garments workers, returned to Khagrachhari from Chattogram this morning after their workplaces were closed," said Tantu Chakma, a witness.
"We are not being allowed to cross Manikchhari's Noia Bazar check-post and we are now stranded under the open sky without any food since the morning," said Sumita Dewan, who sustained severe injuries to her head. 
"We need immediate help from the local administration," Sumita said.
"Why were we beaten mercilessly?" inquired Shantipriyo Chakma, another victim, as he demanded justice.
"Our garment factory is closed. The owner didn't give our salary. How will we survive in Chattogram?"
Contacted, Amir Hossain, officer-in-charge of Manikchhari Police Station, denied the allegation.
"We didn't beat anyone and we don't know how any of them got injured. We are only following local administration's directive not to permit anyone to enter Khagrachhari," the OC told The Daily Star.
Talking to The Daily Star, Khandoker Mohammad Rezaul Karim, additional district magistrate of Khagrachhari, said, "As we have decided not to allow anyone entry to Khagrachhari, we are urging the people who are stuck in Manikchhari's camp area to return to Chattogram," adding, that they were "monitoring the situation."