Khagrachhari AL leader, local admin stand by mother who tried to "sell son"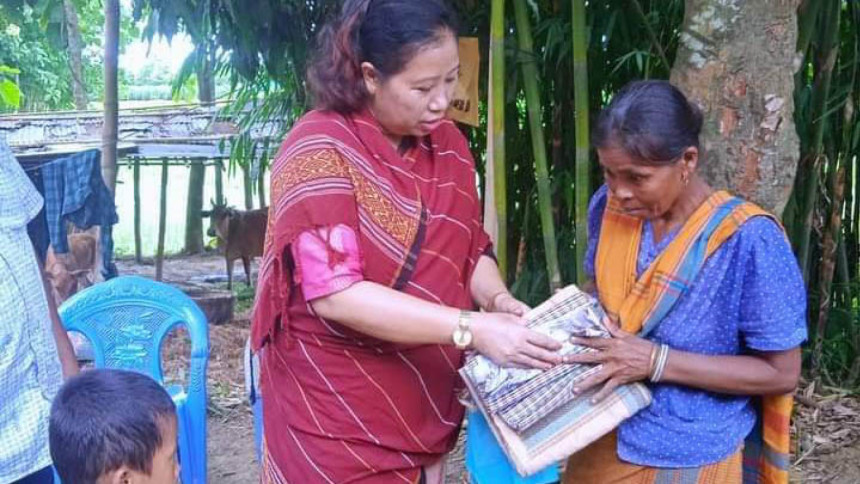 Sonali Chakma went to a local market of Khagrachhari on August 11 to "sell her six-year-old son at Tk 12,000" due to financial crisis.   
When Chairman of Kamalpati union Sunil Chakma learnt of the incident, he immediately went to the market and brought the mother and son, Ramakrishna Chakma, to his house. But they left his home later. 
After getting information, Basanti Chakma, a local Awami League leader and MP from reserved women's seat, and Sujan Chakma, chairman of No. 5 Bhaibonchara union, visited Sonali the next day.
After hearing of her ordeal, they made arrangements of allowances for the next six months, a local correspondent reports. 
Basanti Chakma told The Daily Star that the woman is destitute and mentally unwell. Locals said that she is an epilepsy patient, the MP said.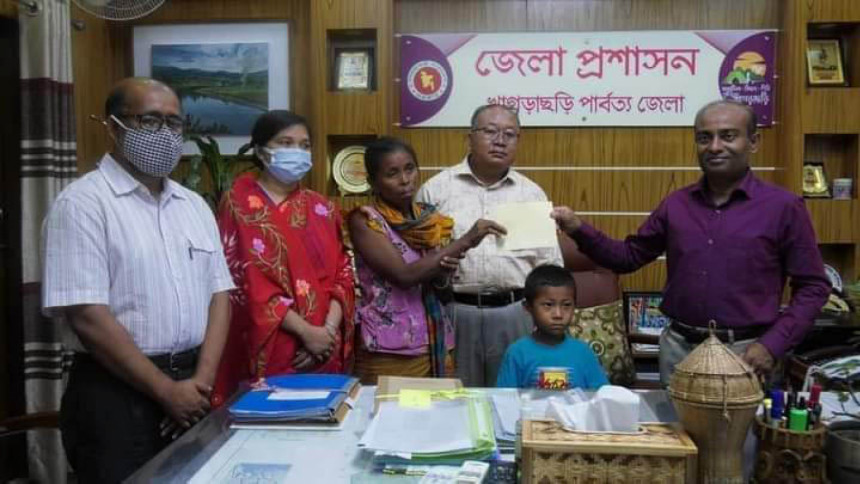 The lawmaker said she asked Sonali about her attempt to sell her son and the woman said, "I'm unwell most of the time. I have to take medicine. But I don't have any money. Besides, my son is growing up but I couldn't send him to school.  What else can I do?"
"If a person is starving, it is a matter of shame for a public representative. We may not be able to reach out to everyone due to the remoteness of the locality. But my colleagues and I will extend helping hand if we come to know about someone's helpless situation."
Basanti Chakma also said, "We have arranged daily necessities including clothes, food items for Sonali and her son for the next six months. I'll help her more if needed."
She also assured to bear all the expenses of the child's education, including admitting him to a school.
Today (August 14, 2022), Khagrachhari Deputy Commissioner Pratap Chandra Biswas brought them to his office and also made some arrangements to ease their financial crisis.
The DC said, "We all think that Sonali Chakma's mental health should be evaluated. Since her son is just six years old, we will send him to a government home for children."
"On the other hand, we will build a two-room semi-pucca house, meant for homeless people, at the cost of Tk  2,60,000 and will hand it over to Sonali," he added. 
The DC further said if medical evaluation concludes that Sonali is mentally unwell, they will provide government's disability allowance and will also hand over savings certificate of Tk 1 lakh in her name. "Our Upazila Nirbahi Officer will encash the monthly interest and will hand it over to her."
Apart from that, district administration is ready to bear her medical expenses, if needed, he added.
"We will try to give a secure life to Ramakrishna Chakma," he said. 
According to the family, Sonali lives with her father as she is not in touch with her husband. 
After the video went viral on social media, many visited them and came forward to give them financial assistance.