Healing the wounded: Another field of battle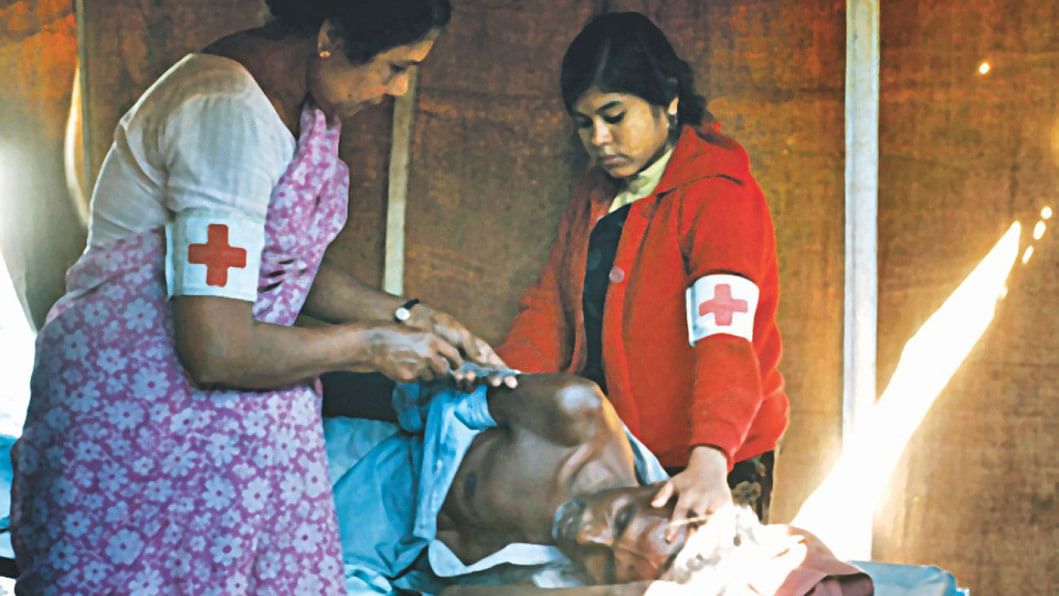 Besides taking up arms to directly fight in the war in 1971, many women also joined the war effort as nurses and doctors to provide medical care for injured freedom fighters. The following are the experiences of two such women who participated in the war as nurses, Sultana Kamal, lawyer and activist, and Minu Haque, dancer and choreographer.
The narratives have been transcribed by Eresh Omar Jamal, editorial department, The Daily Star from his conversations with both of them.
Sultana Kamal
The contribution of women during the war, and in the eventual liberation of Bengali people from the oppression of Pakistani forces are immeasurable and difficult to categorise. When many of the men were going to Sector 2 to join the war effort, many women I knew were gathering information like intelligence officers and passing it on to their fellow freedom fighters.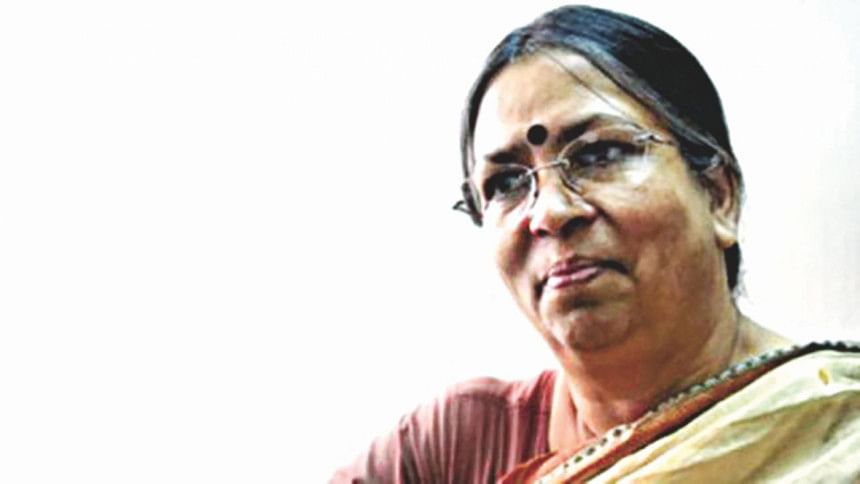 They were collecting money and supplies, helping other freedom fighters wanted by the Pakistani Army avoid capture by accompanying them during their travels, as they were less likely to be stopped with female companions. What I'm trying to say is that almost everyone, including all women, did everything they could for our liberation.
Squadron leader Hamidullah, who was living in our house, came to my mother one day and told her he had been summoned to the Pakistani Army Headquarters—no one used to come back from there. With the help of my contacts he managed to escape. But the Pakistani forces captured a young boy who was working for him. And we feared that they would torture him and force him reveal the whole chain of operation. 
That is when on June 16, my sister and I, as well as others, left to join the Bangladeshi forces at Sector 2. When we landed in Comilla, there were rickshaws already waiting to take us to Sonamura border to cross into India. As I said, everyone was helping, including rickshaw pullers.
I was only 21 years old, and my sister was 19, so we didn't know at all what to expect on the other side. We stayed with Akhter bhai in Shonamura. He was a doctor who, when fighting broke out, took as much medical supplies as he could, stuffed them into an ambulance and crossed the border into India. He was given a room in the forest bungalow to start his medical practice there, where wounded soldiers of the Mukti Bahini would come for treatment.
Zafrullah Chowdhury and Mubin Hossain had started their practice on the other side. Some of the women who were with us left to help them but we stayed back. Most of us were amateurs who were trained on the spot on how to give treatment. But we were joined later by Daliah Salahuddin, who was a professional doctor. And doctor Sobita Mondol for a few days.
When the Mukti Bahini started their big offensive in June, the wounded came pouring in. Surgical procedures were done in that one room and we somehow managed to give treatment and help them recover. Besides being a medical centre, it also became a transit camp.
By July the Pakistanis had figured out its location and began bombarding it with mortar shells. Since the hospital was unsafe the forest department gave us a few more rooms and asked us to move to Melaghar. It was during the rainy season so we had tents set up on the floor for doctors to operate and nurses to give care to the wounded.
Midway through the next month, a generous man, Habul Mia, cleared out his garden to allow us to set up a field hospital. We were able to set up two medical units and two surgical units. More and more women kept joining, some of them had received basic training as a nurse—but they were very young, most of them were only university students. Now when I think about it, it's actually funny how we women, without any experience or training—other than a few exceptions—managed to run an entire hospital. Among those who joined was Zakia apa, an English teacher who had led the intelligence collection effort back in Dhaka before leaving. As the hospital grew, people were assigned their specific duty. I was in charge of the surgical unit, and saw people suffering from horrific injuries—bullet wounds to the face, infected legs, some totally hysterical. It was difficult, but we had to make do.
Many of the wounded needed blood. Sometimes we ourselves would give it, other times we would get our contacts to arrange it from the GB Hospital in Agartala. Despite the many challenges, no one ever died at our hospital which was quite miraculous—except for an engineer who had succumbed to a heart attack.
Besides providing medical services, women also received firearms training, and some even fought side by side with the men. It is unfortunate that today they are increasingly being portrayed as victims when the truth is that the majority of them were active participants. That is why you will find many women among the list of intellectuals who were murdered.
But it doesn't even occur to people now, how families had managed to run with most of the men away. It was because of the women. They were the ones collecting crops from the fields, taking children to school and looking after homes.
I suspect one reason people nowadays can't grasp the role of women is because they don't understand that the Liberation War was a "peoples' war". Nearly every person contributed to it, however they could, because they felt like their dreams were being taken away. And so every single person, including the women, were inspired to fight in their own way, knowing they were doing it to save their own dreams—through a magnificent and truly collective effort.
---
Minu Haque
A month after I entered Dhaka University, the non-cooperation movement started. Like everyone, I was supportive of movements promoting Bangladeshi nationalism. I used to dance, so I joined a dance programme for BTV as a teenager.
When things flared up, my mother stopped me from going to university on March 1. I remember seeing my friends carrying bamboos for Bangabandhu's March 7 speech, although I only saw the speech from our rooftop—Dhaka was very open then.
Our house was located exactly opposite to the Rajarbagh Police Line. On March 25, I remember playing caram when at 10 pm, rickshaw pullers started to shout that the army had arrived. Mustafa Monwar and Badal Rahman came to tell us that the Pakistani Army had taken over BTV. All landlines were disconnected and the Pakistan Army burned down the Rajarbagh Police Line and surrounded all houses in the area.
The Bangladeshi police fought them from rooftops with whatever they had, saving the lives of people in the houses. But many were killed near the Police Line. The next day, independence was declared.
Members of the Crack Platoon started to come to our house around May to meet one of my relatives; we weren't allowed to listen to their conversations. One day, Shahdat bhai asked my mother to let me go to India and help the liberation movement. My brother-in-law, Altaf Mahmud, and others, were going to Melaghar. But my mother refused to let me go with them.
From July the Pakistan Army decided that they needed entertainment, so they gathered names of dancers and entertainers. One day a jeep came to our house and the Pakistani Army asked for me. They said I had to go somewhere to dance. My brother said I was sick. They wanted to check for themselves but somehow, they were convinced to leave. They came back the next day, and the next, but my brother said I had fainted and hurt myself. That's when they said they would come back the next day and take me by force, so my mother took me to Sufia Kamal's house. In August, my mother told Altaf Mahmud to take me to India.
Fate had it that Altaf Mahmud would end up not coming with me. Instead he sent me with others and said he would come later. He never made it. It took us three days to reach our destination as the roads were terrible. I had my first taste of what the war in the village areas was like—I saw young boys in lungis carrying rifles.
This made me realise that when we talk about women, their number one contribution really came in the form of mothers sending their boys to fight in the war; and not only boys, girls too—like my own mother had done. People don't realise how much courage that takes, and what kind of sacrifice.
In India I met a lot of Bengalis active in the war effort, including Sultana Kamal. Khaled Musharraf was my Commander in Sector 2. We were working on acres and acres of land donated to us by a gentleman in Kolkata. It was a beautiful place. News came to me the next day that Altaf bhai had been caught. I never got to see him again.
Everything in the hospital was made with bamboo sticks, but it was beautifully made and everything was separated very well for optimal functionality. It was like a medical college, only made with bamboos. Captain Akhter, who was a doctor, taught us how to give injections, take blood pressure, etc. Doctor Murshed also joined us after some members of the Crack Platoon were apprehended.
Each of us worked eight-hours a day every day. Boys worked the night shift, and girls worked during the day. Although we had received good medical training, some days when we had patients with serious bullet injuries, it got difficult. The images of those injuries are still fresh in my memory.
Most of the wounded fighters were people from villages. What those people didn't give in the battlefield, people just can't imagine. When I look at their plight now, I know that they have been badly neglected, despite them giving and giving, until there was nothing more to give.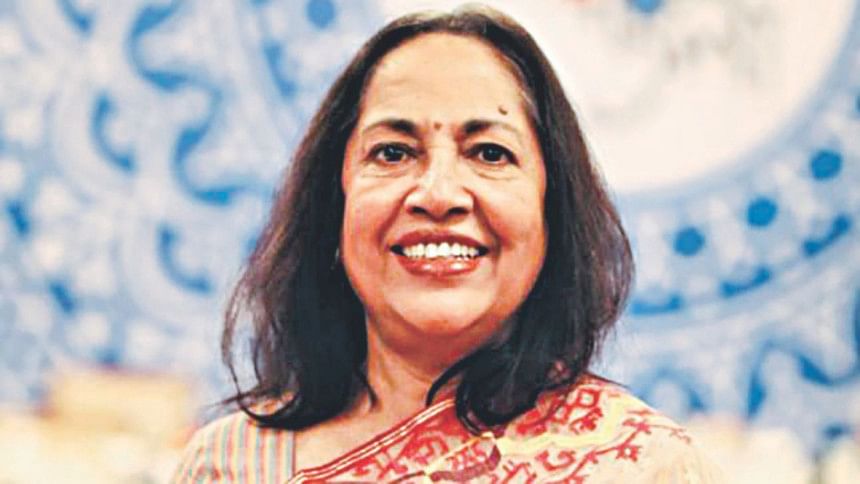 The treatment we provided was surprisingly good. People were recovering very fast. When people with shell injuries were being brought in, we could hear the ambulance coming from a long way out. We were told not to look at those with shell injuries. But I once looked at someone who had stepped on a mine. He had lost his leg. They had to cut it off completely, but parasites were still infesting on his skin. We would sing songs to him. At one point, even we couldn't go near him, he was soon sent somewhere else for treatment.
Because this was in the middle of the jungle, we would have to deal with a lot of malaria cases. These were tough times. I used to remember how my mother had told me when I was leaving, "I will meet you on the Day of Judgement." That's how things were. We didn't know if life would continue for very long, whether we would ever get to meet our loved ones who we were forced to leave behind. Yet, after ending our daily duties, all the girls would sit at night and sings songs under the open sky.
Towards December, we saw the Indian Army gathering near the border. They were apparently getting ready to launch an offensive along with our freedom fighters. This is when we were sent to Kolkata. Our journey there was very difficult, and when independence was finally celebrated in Bangladesh, we didn't even know it had happened.
We returned to Bangladesh later with many other refugees on January 4, 1972. Everything was just completely devastated.
When I went back home, I remember the domestic worker of our house refusing to let me in. She was new, and so didn't recognise me. Someone else had to come to the door and say, "let her in, she is a woman of this house."