Nijer Bolar Moto Ekta Golpo: Linking entrepreneurs to thrive together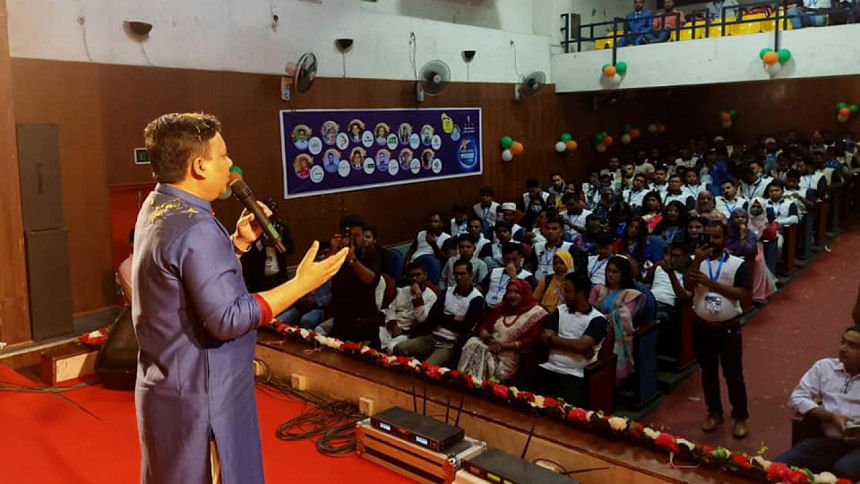 One of the fastest-growing economies in Southeast Asia, Bangladesh, has seen a spike in unemployment rates following the Covid-19 pandemic. The country is still recovering from the damage done during this pandemic, but the fall in unemployment rates is still going at a languid pace. 
Iqbal Bahar Zahid, an entrepreneur and social worker, founded Nijer Bolar Moto Ekta Golpo Foundation on January 1, 2018. This is a foundation where entrepreneurs are made, and taught the necessary skills in 14 fields needed for leadership, volunteering, and social work. This is the only organisation in Bangladesh where students are taught entirely free of cost.
In an interview with The Daily Star, Iqbal said, "Not only did I want to teach students in Dhaka, but I also wanted to teach the students who live in villages and have never visited Dhaka. I have many students who are from different districts of the country,"
This organisation takes online and offline classes through YouTube, Facebook, and in-person seminars that students from across the country can join.
The entrepreneurship course is for 90 days, where students are given almost 400 contents throughout their course that contributes to their skill development. In the last four years, Iqbal has trained around 6 lac students through online/offline seminars, entrepreneurship seminars and voluntary seminars. The organisation's primary goal is to reduce unemployment in 64 districts of this country and create entrepreneurs so that anyone can start their own business or do better in their current jobs.
Nijer Bolar Moto Golpo foundation has done significant voluntary work across the country, including planting trees in the Sundarbans, helping people during floods, the pandemic, and the winter season.
Their lifetime foundation members (3 lac 35k) have regularly donated blood. Entrepreneurs who require funds and products to start their business have received donations from this foundation to help them launch successfully. 
Iqbal is highly ambitious about his foundation. Based on his slogan- "I will not stay unemployed", he has created the "Entrepreneur's Club" in at least 1,000 colleges and universities in Bangladesh.
He believes that he not only gives his students dreams but also teaches them how to make those dreams a reality. His mission is to teach at least one crore students for 5-10 years. He plans on creating employment for 10 lac people by making 300,000 entrepreneurs in the next two years.