Forging the path to progress for underprivileged communities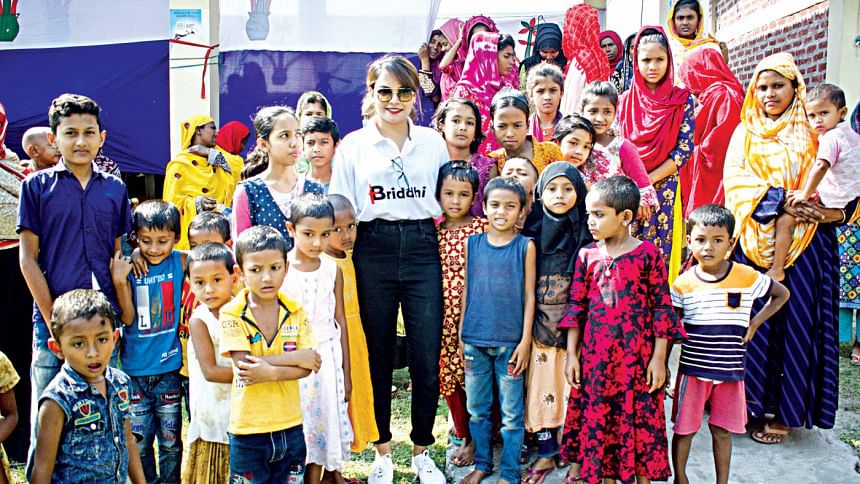 For a newly initiated non-profit organisation, Briddhi is on the right track to taking measures for positive changes. Founder Israt Sharmin Keya, a final-year student of North South University, reached out to underprivileged groups living around Mirpur, her area of residence. She was inspired when she visited the Bihari camp and slum dwellers there.
Despite being a Marketing student, Keya is highly invested in working for the developmental sector too. Her desire to reduce the gap between the rich and the poor compelled her to talk to Farzeen Ferdous Alam, an economist and a social entrepreneur.
Briddhi started out in September 2021 through a campaign with the tagline, 'In solidarity with sustainable growth'. Farzeen is the Vice President of the organisation.
Briddhi has four main pillars: nutrition and healthcare, technical and vocational education and training (TVET), inclusive society for children with special needs, and empowerment of young girls. They are currently focusing on the first three pillars but they will get to the fourth pillar with their next initiatives.
"Our main focus is people at the grass-roots level. We conduct necessary surveys to address the needs of these people. We also focus on keeping in touch with educated university students who willingly volunteer at our workshops," said Keya.
Briddhi's nutrition and healthcare pillar is significant for children to stay healthy and strong. During their last workshop at Rangpur a medical student volunteered to help educate mothers and children about the basic necessities of leading a healthy life. The volunteers even gathered data during the workshop from participants, so that when they collaborate with medical professionals, people on their list can continue visiting doctors regarding their health. 
For TVET, Briddhi will arrange a night school in Sylhet for working underprivileged children, where university students will be the teachers. In the long term, Keya hopes to integrate TVET with the mainstream curriculum.
TVET also highlights how a person can be better off with odd jobs too; one doesn't have to become a doctor, engineer or lawyer to be successful.
Briddhi's initiatives for an inclusive society for children with special needs will offer said children toys and other thrill rides at amusement parks, which they are not privy to already. Briddhi will also work for the education of young girls.
"We are currently getting things done with internal funds. Briddhi aims to nurture children and families in need, so we would like to invite interested students with expertise to contribute their time to our future endeavours," concludes Keya.
The author is a freelance journalist. Email: [email protected].