DYDF strives for a more inclusive world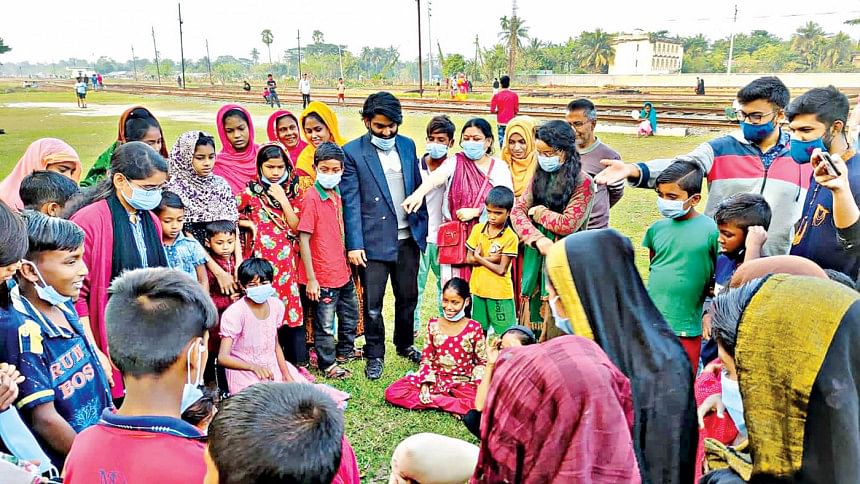 Dhrubotara Youth Development Foundation (DYDF) focuses on training young people on leadership, eradicating poverty, and creating livelihoods through small loans and employment. The foundation was established in 2000. 
After completing his primary education from Noakhali, Amiya Prapan Chakraborty pursued Development Studies from Dhaka University.
Shocked by a rape and murder incident in Noakhali, Amiya, along with three of his friends, set out to build a platform that speaks against child abuse and harrassment.
"When I approached my grandmother Komol Chakraborty, a freedom fighter herself, she encouraged the idea and named the initiative 'Dhrubotara' in line with the thought that back when compasses were not invented, sailors would rely on stars to lead their way in the sea," he shared. 
"Since we started out, we have been working on empowering the youth and building a better Bangladesh through various social activities."
With their pool of 48,000 volunteers, DYDF has expanded their activities across 44 districts and reached about half a million people.
The foundation works for marginal people and minority rights, centering rural and urban youth, tea labour, ethnic and disadvantaged community groups. They have also formulated youth parliaments in districts, enabling people aged between 18 and 35 to pitch ideas on policy making. Besides, DYDF has arranged freelancing projects for char community students.
Among other achievements, the organisation received the Queen's Young Leader Award in 2017, and the Joy Bangla Youth Award in 2022.
DYDF carries out skill development projects, with an objective to train young people to be self-sufficient. Later, the foundation links the trainees up with various stakeholders.
Currently, DYDF is working on a project called "Onneshon"with Santal people around Chapainawabganj, which is supported by the ICT Division.
DYDF also works on climate development around coastal areas, including Noakhali. They have held different entrepreneurship summits for youth activists, administrators, policy makers and development organisations.
The author is a freelance journalist. Email: [email protected]