BYLC launches Volunteer Awards
10 individuals and 3 volunteer organisations awarded social action project grants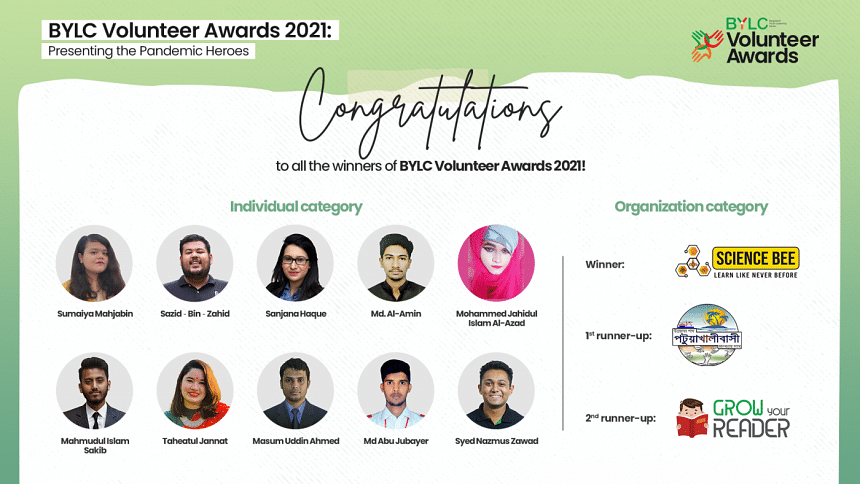 BYLC Volunteer Awards: Pandemic Heroes 2021 was launched on Thursday, September 2. Winners were selected from over 800 individual and over 70 organisation submissions across 64 districts.
The awards aimed to recognise the contributions of individuals and organisations working for social issues within their communities during the pandemic. Through this award, BYLC hopes to promote partnerships between youth changemakers, community members, and other stakeholders to contribute in achieving the government's vision of SDGs by 2030.
Winners were shortlisted based on their contribution, impact, reach, and engagement in the categories of individual and organisation submissions. Ten winners of the individual volunteer category received a social action project grant of BDT 10,000, while the top three volunteer organisations respectively received grants of BDT 25,000, BDT 20,000, and BDT 15,000.
While addressing the winners, Md. Atiqul Islam, Mayor of Dhaka North City Corporation, urged them to continue working for the welfare of their community and participate in national volunteering campaigns. "Volunteers are essential to build an inclusive city and country. Even DNCC's mandatory masking campaign is being run by volunteers. We cannot achieve development without the contribution of volunteers who go out of their way to engage in social welfare," he said.
In her remarks as special guest at the event, Paula Roos-Schindeler, Deputy Head of Mission of the Embassy of the Kingdom of the Netherlands in Bangladesh, said that youth volunteers work in parts of society where there is a clear need. "It takes a lot of resources and time for any organisation or government to reach every single community, identify their issues, and solve
them. Young people can address some of the issues of their community because they understand these challenges and have greater chances to engage with the people," she added.
Through these awards, BYLC hopes to foster a spirit of community service and active citizenship among youth, while promoting exemplary practices in community leadership.
"During a crisis, the first thought that crosses people's minds is their own survival and wellbeing. Even during these challenging times, the winners of BYLC Volunteer Awards thought of their civic responsibility and worked for the welfare of their community. These winners are the living example of the spirit that BYLC has been trying to instill in youth over the last 13 years," said Ejaj Ahmad, founder and president of BYLC.
Volunteer Opportunities was the youth engagement partner of BYLC Volunteer Awards 2021.