Half bus fare: Students reject transport owners' conditions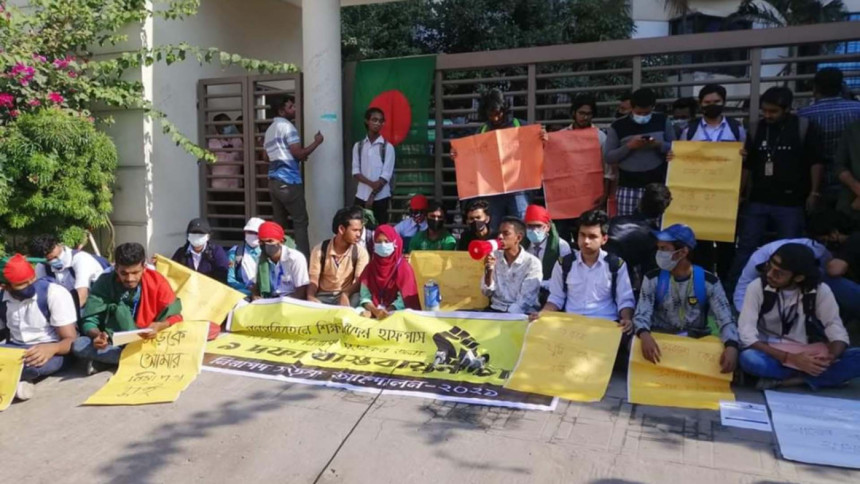 The agitating students today rejected the half bus fare only applicable in Dhaka, announced by transport owners.
The students will continue their protests until the government issues a gazette notification after accepting their nine-point demands for safe roads and half bus fare, said Shaheed Apon, a student representative.
They were demonstrating in front of the Bangladesh Road Transport Authority (BRTA) office in Dhaka's Banani, reports our staff correspondent.
"Transport owners announced half fare on public buses only in Dhaka, on various conditions. We don't accept any of the conditions," said Shahed Apon. 
He said, "Only verbal announcement is not acceptable. The government will have to issue a gazette notification for half bus fare for students across the country. Otherwise, we will continue our protests."
Earlier in the day, public transport owners agreed to take half fare from students in Dhaka from tomorrow.
Khandaker Enayet Ullah, general secretary of Dhaka Road Transport Owners' Association, made the announcement in a briefing today.
"Students will have to show ID cards of their schools/colleges while paying half fare. This will be applicable from 7am to 8pm," he added.
However, the half fare will not be applicable on government and weekly holidays and during seasonal vacation, according to a release issued in this regard.
The decisions are only applicable for public transport in Dhaka, not other parts of the country, the release adds.